Boheme Collectif, a burgeoning community of artists in East Nashville, proudly presents, "Into the Night: A Twin Peaks Themed Art Show and Prom" on February 9th, 2013.
To celebrate the wonder and the weirdness of Twin Peaks, Bohéme Collectif has amassed a number of Nashville's finest artists to present themed works. Organizer Valerie Harrell, along with founder Sabrina Langlois-Deal and other Bohéme members, have brought together a diverse array of local artists in a variety of media. "We will feature award-winning professionals and talented amateurs alike," Harrell said. "From photography to sculpture, this Twin Peaks inspired art show will have something for everyone." The showcase will feature artwork that, like the world of Twin Peaks itself, is beautiful, haunting, and bewitching.
In addition to the art show, there will also be a Twin Peaks costume prom in Bohéme Collectif's performance space upstairs. Patrons can dance the night away while Nashville DJ and founder of the popular Vice & Virtue electronic music night, The Librarian, plays prom favorites and soundtrack remixes. There will be David Lynch-themed burlesque performances from local favorites Bebe McQueen, Bettie B. Cupp and Lux-O-Matic of Music City Burlesque, as well as Ava Dahl of Big Daddy Cool and the Swing Kittens. The final performance of the evening will be the swinging sounds of Eight O' Five Jive, a local quartet specializing in a swing-blues and early rock and roll sound. And, of course there will be "damn fine" coffee from Crèma, homemade doughnuts, and cherry pie.
Tickets: $15 in advance, $20 at the door (21+ only)
Date: Saturday, February 9th 2013 starting at 7PM
Venue: Bohéme Collectif located at 919 Gallatin Ave. Suite 8, Nashville, TN 37206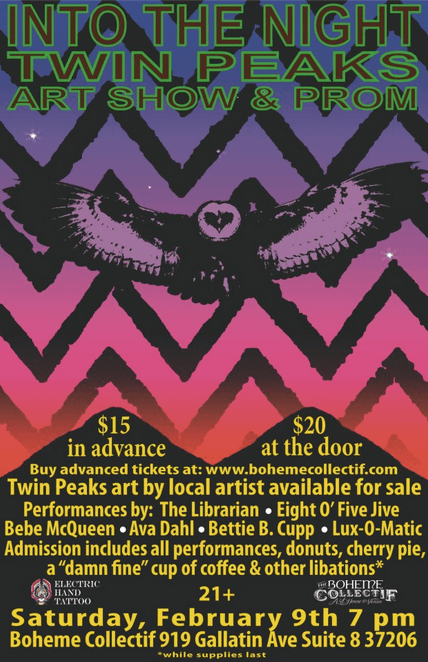 Here's a sneak preview of two Log Lady-inspired pieces that will be on display: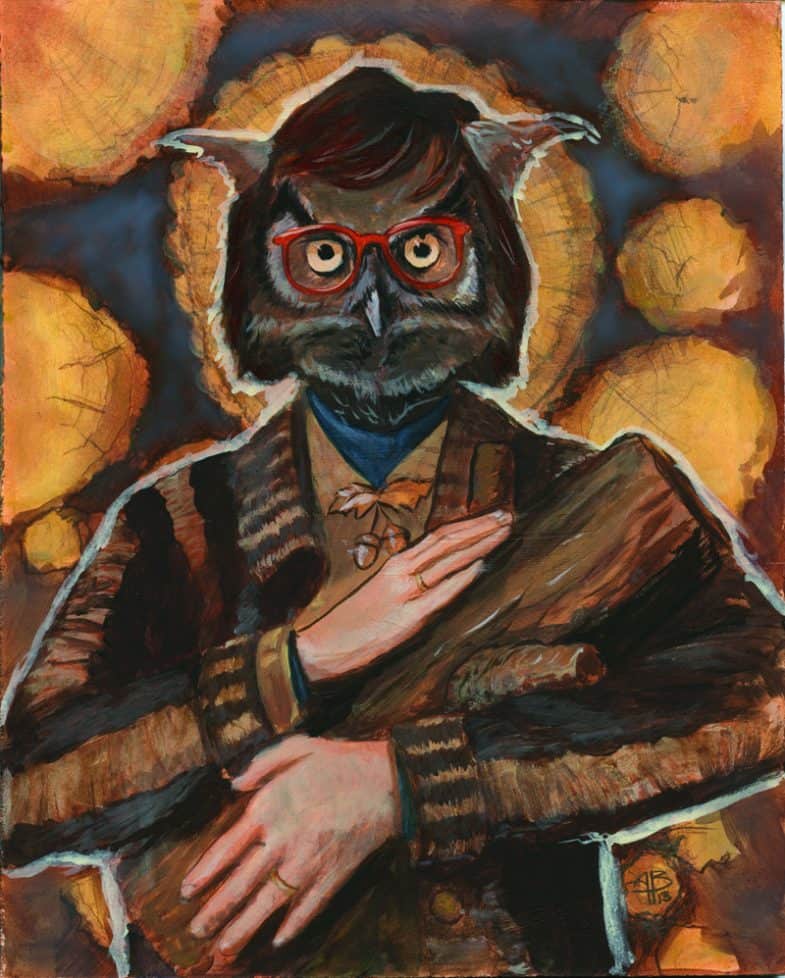 And some more teasers. Most of them work-in-progress, mind!