David Lynch's latest film, Idem Paris, is an 8-minute cinéma vérité-style documentary about his favorite Parisian art studio, built in 1880 and previously frequented by the likes of Picasso, Miro, Cocteau and Matisse. David Lynch himself so far created about 170 lithographs and engravings in the 2-story workshop located at 49, rue du Monparnasse in Paris.
Here's Lynch's introduction:
Hervé Chandès from the Fondation Cartier brought me over to Idem and introduced me to Patrice Forest. I see this incredible place, and I get the opportunity to work there. And this was like a dream! It just opened up this brand-new world of the lithography and the magic of lithography, the magic of the stones. And it was a great, great thing! This thing of lithography, this channel of lithography opened up and a bunch of ideas came flowing out and it led to about a hundred lithographs. I will say that Idem printing studio has a unique, very special mood, and it is so conducive to creating. Patrice has the greatest attitude for all the artists and he creates this space of freedom and this joy of creating. It's so beautiful! And I think the place is very important—in other words, the same stone could be moved to another place, and I think that the work that comes out would be different. It's a combination of the stone, the place, the people, this mood, and out comes these certain ideas.
Idem Paris by David Lynch
Film by David Lynch. Idem Paris fine art printshop.
Edited by Noriko Miyakawa. Mixed by Dean Hurley.
Shot in 2012, released in February 2013.
To conclude, here are two possibly Twin Peaks-referencing lithographs David Lynch made at Idem Paris.
Let's Rock by David Lynch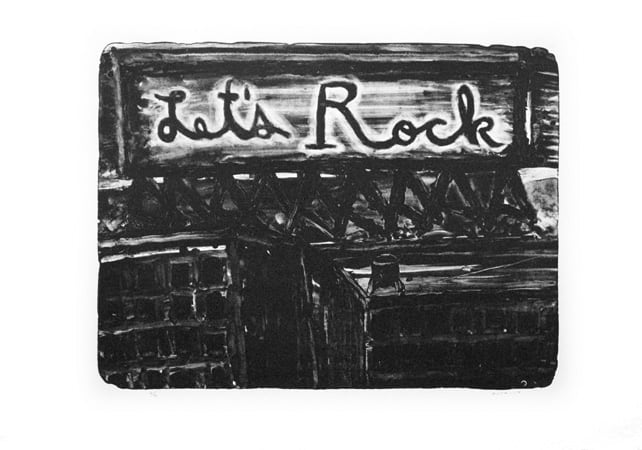 Electricity by David Lynch