This Friday, September 30th 2011, Dances of Vice is throwing a Twin Peaks themed lounge and dance party dubbed  Jack With One Eye at Le Poisson Rouge in New York Cirty. "Come meet the new girls at One Eyed Jack's" and enjoy live performances by Bettina May and The Flying Fox. DJ's Frankie Teardrop, Michael Leviton, Templar and Miz Margo will play Badalamentific records ranging from crime jazz, over rockabilly and 80's dark wave to uncle Leland's big band favorites!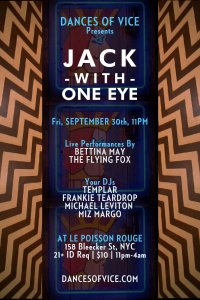 Gotta love the suggested dress codes: 1950's Film Noir Chic, 80's Suburbia, 90's High School Melodrama, Josie Packard Glam, Perfume Shop Girl Mod, Plaid Anything, Polka Dot Ties, Log Accessories, Large Glasses, Hawaiian Shirts, Cosby Sweaters, Rebel Without A Cause, Lumberjack Style, Coral Lipstick, High Waisted Pencil Skirts, Eyepatches, Sunglasses at Night, Flared Trousers, Jock Mode, Jessica McClintock, Newshoes, Blue Velvet, Big Hair, Homecoming Queen Posh, Flannel, Flesh World, Trucker Realness, Cross-Dressing FBI Agent, Dead and Wrapped in Plastic, etc…
Unfortunately, I'll be out of town and can't attend… If any readers are going, feel free to share your pictures afterwards!
RSVP for Jack With One Eye on Facebook.
The Gallery at Le Poisson Rouge
158 Bleecker St, NYC
Btwn Sullivan & Thompson
11PM-4AM
Cover: $10.00 / 21+ ID Req