Mezz.nl and the International Film Festival of Breda are throwing a Twin Freaks party next Saturday, March 26th, in the Dommelsch room at the Mezz venue in Breda, the Netherlands.
DJ Laura Palmer (I kid you not) will play dance music from the Twin Peaks era (think Moby's Go), and VJ VeeMee (or is it VJ Nadine Hurley) has promised to cut-up original Twin Peaks footage and recreate her own story with live video projections. Other DJ's that will try to add a David Lynch vibe to the evening are DJ Ted Langenbach and Willie Wartaal of De Jeugd Van Tegenwoordig fame.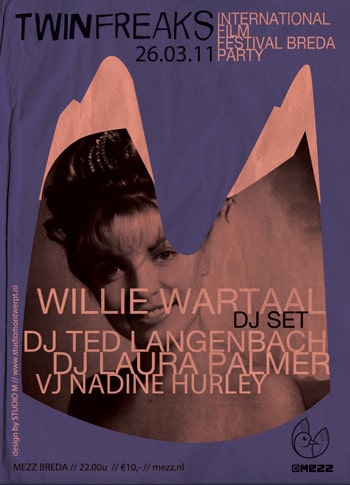 I'm sure it's going to be awesome, so if you're from the area, go check it out! And send me pictures and videos afterwards.
More information here.