Only in New York will you ever have two different Twin Peaks events planned on the same night. On August 9th 2011 (the same night as the Twin Peaks improv) Secret Formula is throwing the third Twin Peaks TV Party at The Bell House in Brooklyn.
Who cast a spell on NYC, the Log Lady? The TV Party audience has insisted that we bring FBI Special Agent Dale Cooper, Sherriff Harry S Truman, and beautiful dead homecoming queen Laura Palmer to the big screen in Brooklyn… and who are we to stand in the way of a supernatural curse?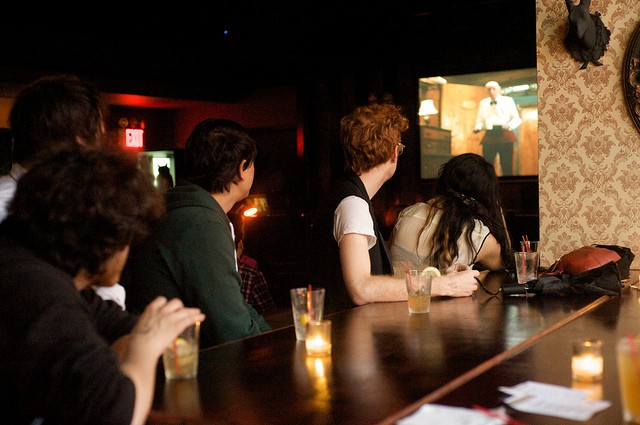 Photo by Ann Yoo
In addition to several episodes from the 2nd half of the 2nd season, you can expect the "usual," i.e. a Miss Twin Peaks pageant, The Pink Room performing burlesque, themed cocktails like The White Lodge/Black Lodge and The Leland Palmer, Laura Palmer Barbie doll scavenger hunt, doughnuts and coffee, team trivia for prizes and TP-influenced ridiculousness galore. These photos kind of give you an idea of what to expect.
Tuesday 8/9/2011, doors from 7:00 PM, show at 8:00 PM. Tickets are $5. At The Bell House in Gowanus, 149 7th Street, Brooklyn, NY 11215