In honor of the imminent return of return of Twin Peaks, Showtime commissioned artists Leon Keer and Nate Baranowski to recreate the iconic Red Room on the streets of Brooklyn, New York, Portland, Oregon, and Los Angeles, California. But not with actual furniture and drapes, no.
As 3D anamorphic sidewalk art!
The past three days, Welcome to Twin Peaks witnessed how Nate brought Leon's 3D design to life in front of the Brooklyn Academy of Music (BAM), the very same building where back in 1989 David Lynch directed the avant-garde musical play Industrial Symphony No. 1: The Dream of the Broken Hearted, with the music of Angelo Badalamenti and Julee Cruise. That location and Lynch go way back, and they just kicked off their Peak Performances screenings with Twin Peaks: Fire Walk with Me. And now this…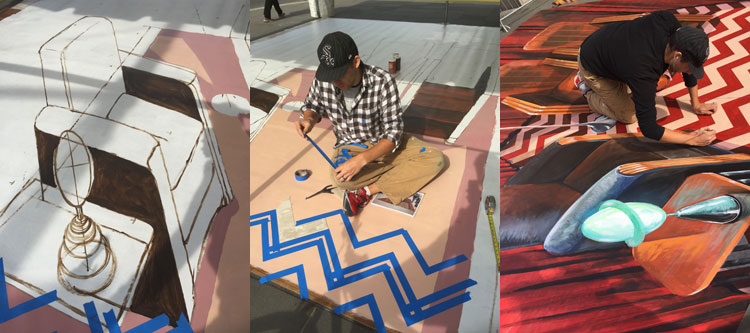 Around 4 PM on Friday, Nate finished up and was the first person to take a seat in his creation.
https://www.instagram.com/p/BUA8ynFAtTc/?taken-by=welcometotwinpeaks
Confused passers-by stopped and started taking pictures of the street art, or actually stepped into the 3D painting and tried to figure out how to sit in the flat chairs. Not sure how many of them really knew they were walking into The Waiting Room, as reactions went from "How bizarre!" —yes, exactly!— to "This is why I love Brooklyn!" But hey, let's rock!
The Red Room as 3D Anamorphic Street Art
The sidewalk art will probably not last long, so for those in Brooklyn, head over there ASAP. Next up, Nate will travel to Portland to paint the same thing in front of Voodoo Doughnut Too (May 18-20) and Leon will be doing the piece in Los Angeles at the Autry Museum (May 25-27).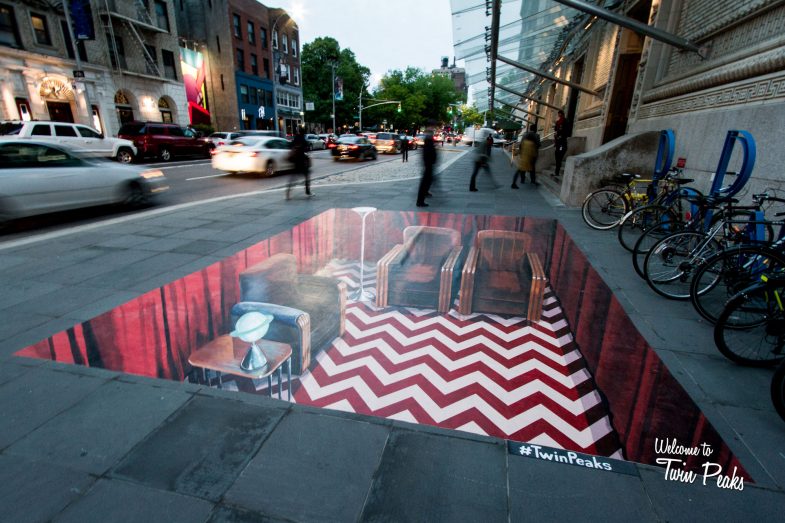 Hmm, what did Cooper leave on the table? #TwinPeaks pic.twitter.com/zrPL97HzjF

— Welcome to Twin Peaks (@ThatsOurWaldo) May 13, 2017