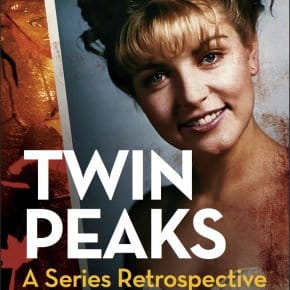 2013 is off to a brilliant start for Twin Peaks fans, particularly those in the Los Angeles area. The School of Cinematic Arts at the USC (University of Southern California) is hosting a complete Twin Peaks Series Retrospective over the course of the 2013 Spring semester. Seven Sunday afternoons, starting tomorrow January 27th through April 14th 2013, the film school will be screening every episode followed by in-depth Q&As with cast and crew, while coffee and pie and/or donuts will be served at intermission. A 35mm screening of Twin Peaks: Fire Walk With Me will take place on May 5th 2013.
Here's an overview of the free screenings along with the stellar list of currently confirmed guests:
January 27 – 4:00 PM: Pilot, episodes 1.2 & 1.3 followed by a Q&A with Mark Frost (Co-Creator, Writer, Director, Executive Producer), Duwayne Dunham (Director/Editor), Ron Garcia (Director of Photography), and Grace Zabriskie (Sarah Palmer). WATCH THE Q&A.
February 10 – 2:30 PM: episodes 1.4, 1.5, 1.6, 1.7 & 1.8 followed by a Q&A with Mädchen Amick (Shelly Johnson), Dana Ashbrook (Bobby Briggs), Robert Engels (Co-Producer, Executive Story Editor, Writer), Jill Rogosheske Engels (Trudy from The Great Northern), Gary Hershberger (Mike Nelson), Russ Tamblyn (Dr. Jacoby), and Charlotte Stewart (Betty Briggs). WATCH THE Q&A.
February 17 – 2:30 PM: episodes 2.1, 2.2, 2.3, 2.4, 2.5 followed by a Q&A with Paula K. Shimatsu-U (Unit Publicist), Richard Hoover (Production Designer), Philip D. Segal (ABC Programming Executive during the production of Twin Peaks), Carel Struycken (The Giant), Gregg Fienberg (Producer), Robert Bauer (Johnny Horne) and Lenny Von Dohlen (Harold Smith). RSVP here.
March 3 – 4:00 PM: Episodes 2.6, 2.7, 2.8, 2.9 followed by Q&A with Frank Byers (Director of Photography) Tim Hunter (Director), Piper Laurie (Catherine Martell), Al Strobel (One-Armed Man), Mary Sweeney (Editor), Rich Robinson (Property Assistant), Jeffrey Moore (Property Master), Paul Trejo (Editor), and Ray Wise (Leland Palmer) RSVP here.
March 10 – 3:00 PM: Episodes 2.10, 2.11, 2.12, 2.13, 2.14 followed by Q&A with Catherine E. Coulson (The Log Lady), Lori Eschler Frystak (Music Editor), Lesli Linka Glatter (Director), Michael Horse (Deputy Hawk), Sara Markowitz (Costume Designer), Peggy Lipton (Norma Jennings), and Harley Peyton (Producer). RSVP here.
March 24: Episodes 2.15, 2.16, 2.17, 2.18, 2.19 followed by Q&A with Kimmy Robertson (Lucy Moran), Wendy Robie (Nadine Hurley), Robyn Lively (Lana Budding Milford), Caleb Deschanel (Director), Mary Jo Deschanel (Eileen Hayward), Jonathan P Shaw (Editor) and Kenneth Welsh (Windom Earle).
April 14: Episodes 2.20, 2.21, 2.22: Kyle MacLachlan (Dale Cooper), Julee Cruise and David Patrick Kelly (Jerry Horne).
May 5th: Twin Peaks: Fire Walk With Me followed by Q&A with Ray Wise (Leland Palmer), Sheryl Lee (Laura Palmer), James Marshall (James Hurley), Bob Engels, Ian Buchanan (Dick Tremayne), Phoebe Augustine (Ronette Pulaski) and Jennifer Lynch.
UPDATE: Following cast expressed interest in attending, but eventually couldn't make it: Sherilyn Fenn (Audrey Horne), Joan Chen (Josie Packard), Michael Ontkean (Harry Truman), Chris Mulkey (Hank Jennings), Walter Olkewicz (Jacques Renault), Miguel Ferrer (Albert Rosenfield) and Johanna Ray (Casting Director).
Tickets: Free but RSVP required and admission not guaranteed so come early.
Venue: Eileen Norris Cinema Theatre/Frank Sinatra Hall, 3507 Trousdale Parkway, Los Angeles, CA 90007