The Queensland Art Gallery | Gallery of Modern Art (QAGOMA) is proud to host David Lynch's first major Australian exhibition from March 14 through June 7, 2015.
David Lynch: Between Two Worlds (Trailer)
NEW
The world's gone to hell in a handbag!
Titled David Lynch: Between Two Worlds —three words borrowed from the unforgettable Fire Walk with Me poem— it shouldn't come as a surprise they're planning various celebrations of the 25th anniversary of Twin Peaks. But more than that, the Brisbane exhibition is an extensive retrospective of 50 years of David Lynch as an artist, filmmaker and musician.
Developed closely with the artist, the QAGOMA exhibition features more than 200 works and is organised around three ideas – 'Man and machine', 'The extra-ordinary', and 'Psychic Aches'. Moving between the porous divide of the body and the world it inhabits, the exhibition explores the subjects of industry and organic phenomena; representations of inner conflict; and the possibility of finding a deeper reality in our experience of the everyday.

The uniqueness of QAGOMA as an art gallery with its purpose-built Australian Cinémathèque allows the exhibition to move between the gallery and cinema environment, offering audiences two distinct exhibition spaces and the opportunity to view a complete retrospective of Lynch's film, video and works for television as part of the exhibition.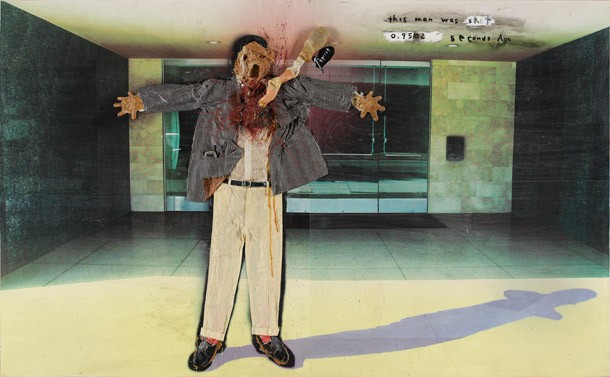 What's particularly exciting for our readers "Down Under" is that David Lynch himself will make his first public appearance in Australia on the exhibition's opening night!
QAGOMA in association with QPAC presents 'David Lynch: In Conversation' on Saturday, March 14 2015. In this exclusive to Brisbane event with special guests, David will share insight into his life, his work and his many passions – painting, film, music and meditation. Tickets to 'David Lynch: In Conversation' will go on sale to the general public at 9.00 AM AEST on Thursday 18 December for $49.00 (adults) and $25.00 (concession) through this link.
Tickets to David Lynch: Between Two Worlds and associated film screenings will also go on sale today, with package options to see both. Exhibition tickets are $15.00 (adults) and $12.00 (concession) available through www.qagoma.qld.gov.au/davidlynch.
Last but not least, there will be a 174-page book dedicated to the exhibition, which is already available for pre-order.
The exhibition publication, David Lynch: Between Two Worlds explores the studio practice of renowned American filmmaker and visual artist David Lynch (b.1946). For nearly 50 years, Lynch's innovative, influential and distinctive artistic output has been integral to his overall creative vision. Including over 200 images illustrating Lynch's wide-ranging oeuvre — drawing, painting, printmaking, photography, mixed media, film and video — Between Two Worlds also features an engaging interview with the artist, conducted by exhibition curator José Da Silva, as well as new photography of Lynch by Just Loomis.