One of my favorite moments while spending a few days in Philadelphia last week for all things Lynch, was walking into Rodger LaPelle Galleries in the Old City a few hours before the members-only preview of The Unified Field at PAFA, and not just discovering fifteen more paintings, drawings and engravings by David Lynch, but also meeting the gallery's wonderful owners and artists Christine McGinnis and Rodger LaPelle.
Mrs. X: Henry works at LaPelle's Factory.

Mr. X: Oh. Printing's your business?

(From: Eraserhead)
"Rodger and Christine were saints to me," David Lynch said of the couple a few days earlier when addressing the press at the Pennsylvania Academy of the Fine Arts. "They hired me to print engravings at their place and it pretty much saved my life. Rodger would pay me to paint if I wanted to come up on a Saturday or Sunday, and he would give me money, like 25 dollars, and keep the work. They really saved me."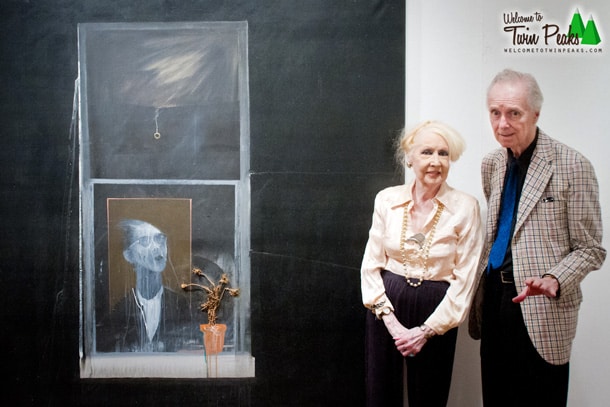 It was a tremendous pleasure to spend some time in their office, listening to a series of anecdotes from two warm and forthright people who are both early supporters and friends of the visionary director. Like how Rodger made David fall in love with Jacques Tati's oeuvre by showing him Les Vacances de M. Hulot one day. Or how Christine's mother, Dorothy McGinnis who went by the nickname of "Flash," got him hooked on daytime soap operas and thus likely planted one of the seeds for Twin Peaks. Dorothy, as you may know, performed the title role in The Grandmother (1970) which has now been digitally restored for the Criterion release of Eraserhead.
Through the years, they kept Lynch's early works in pristine state and contributed a few items to David Lynch: The Unified Field, including his first film, the 1967 multimedia installation called Six Men Getting Sick which was Rodger's introduction to the young artist. Fifteen other pieces from their collection —one of which instantly became a favorite of mine— are on display inside their own 2,000 square feet gallery as part of the David Lynch When Emerging exhibition. Surrounded by Lynch's work ranging from 14 x 14 to 70 x 72 inches in size, and priced from $750 to $150,000, I was startled when Rodger said to me: "Thank you for talking to me, because now I remember I have to go out and get the Philadelphia Daily News for this article they did. Will you watch the gallery for me while we're gone?"
A minute later, I was alone with the '60s and '70s art that helped David Lynch pay for his first experiments in film and ultimately, Eraserhead. So I sat down on a wooden chair in the middle of the gallery and let his "small stories" whisper to me, as I heard the voices of Henry Spencer, Dorothy Valens and maybe even The Elephant Man.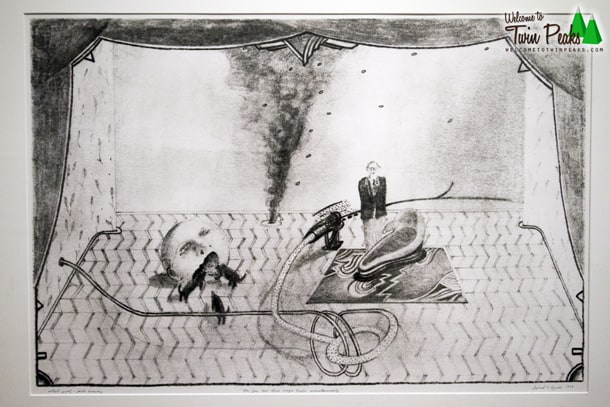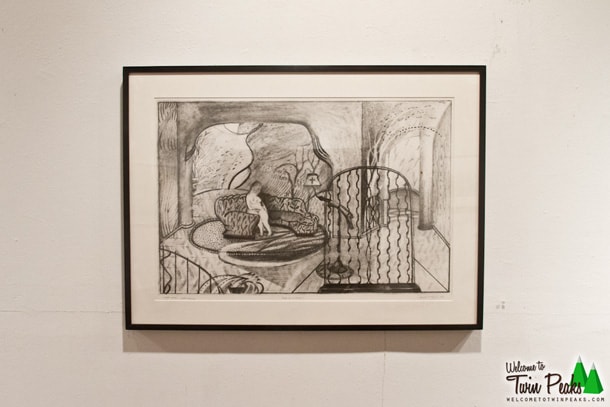 If you're in Philadelphia this month for #PAFADavidLynch, David Lynch When Emerging at Rodger LaPelle Galleries (122 N 3rd St, Philadelphia, PA 19106, Wed-Sun, noon-6 PM) is an absolute must-see. Make sure you say hello to the gallery owners and tell them Pieter from Welcome to Twin Peaks sent you! All exhibited pieces are available for purchase, and the gallery is also selling David Lynch's Garden (1969) on Amazon. In the front gallery, there's the exhibition by Jeanine Leclaire worth checking out. Last but not least, PAFA is organizing Art at Lunch: A Conversation with Rodger LaPelle on October 22, 2014. Be there!