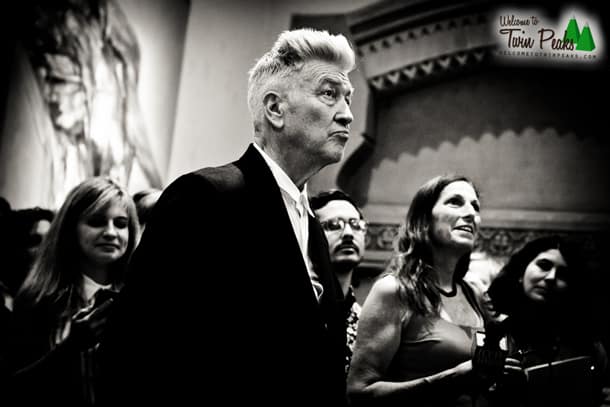 Starting September 13th 2014, the Pennsylvania Academy of the Fine Arts (PAFA) is opening the doors to its Historic Landmark Building for David Lynch: The Unified Field, a vast exhibition featuring approximately 90 paintings and drawings by David Lynch from 1965 to the present. It was during his time as an advanced painting student at PAFA that he had a life-altering experience that led him to filmmaking:
One night in 1967 as he was working in his studio, Lynch recalled, "I'm looking at the painting and from the painting came a wind. And the painting began to move. Two things: a wind came from the painting and the painting began to move. And I'm looking at this and hearing this and I say, 'Oh, a moving painting.' And that was it."
The director's first film project called Six Men Getting Sick, a multimedia installation involving the projection of a one-minute animated film on a screen bearing relief casts of his own body, is being staged as it was originally presented in 1967. Just to be able to watch this piece in the same building where David Lynch spent his early twenties in the workshops —he never went up into the art galleries— is nothing short of surreal and a must for every fan.
Welcome to Twin Peaks was invited over to PAFA for an exclusive preview tour of the monumental exhibition by curator Bob Cozzolino, but instead of sharing photos of some of the individual pieces, I wanted to somehow share the experience of being completely surrounded by David Lynch's art, especially with those who cannot make their way to Philadelphia before it ends on January 11, 2015. Just click the images below to activate the interactive panoramas and teleport yourself into the three halls where his works are being exhibited.
David Lynch: The Unified Field In 30 Seconds
As a bonus, here's a 30 second hyperlapse of a quick stroll through the entire David Lynch: The Unified Field exhibition. The video starts on the ground floor with the Six Men Getting Sick installation (1967) and ends with Hello Goodbye (2007) in the third hall upstairs. Of course, glancing at 90 paintings and drawings in 30 seconds is like watching a movie on an iPhone, so if you can make it, head over to PAFA and immerse yourself with the work of David Lynch.
Exhibition walk-through with David Lynch and Robert Cozzolino
UPDATE: Check out this wonderful video of David Lynch browsing his own exhibition, shot by Adam Peditto.
David Lynch at PAFA Press Conference on September 10, 2014
UPDATE: The entire press Q&A at PAFA is now available here.
David Lynch in Conversation with Robert Cozzolino at PAFA on September 12, 2014
UPDATE: On September 12, 2014, PAFA members enjoyed an intimate conversation between David Lynch and the exhibition's curator, Robert Cozzolino, on the evening of the exhibition opening in Philadelphia.
Stay tuned for more about this exhibition and related events in Philadelphia.