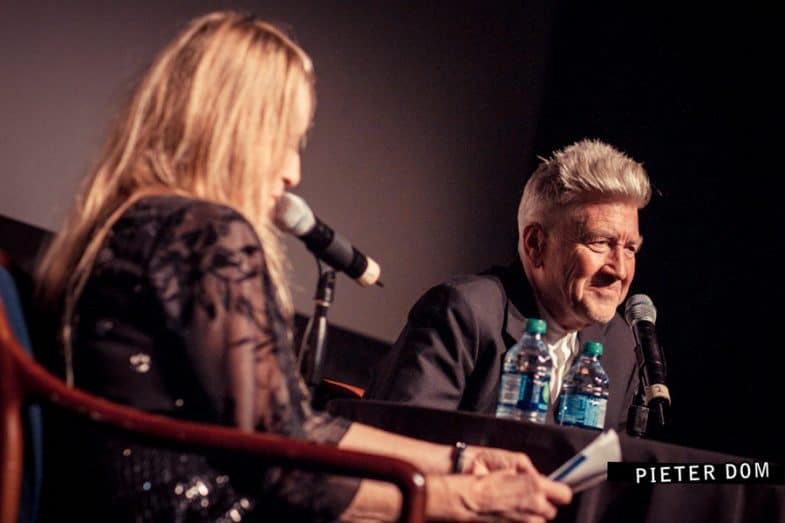 As part of the ongoing David Lynch laudation in Philadelphia, the Philadelphia Film Society is hosting a two-month film retrospective celebrating the works of director David Lynch. On September 10th, preceding the Lost Highway screening at the Prince Music Theater, David Lynch was interviewed on stage by journalist Kristine McKenna. Topics covered include the Philadelphia-inspired Eraserhead, ideas, Transcendental Meditation, love and sex. During the audience Q&A afterwards, David Lynch discusses "happy accidents" and the use of an old Thought Gang track ("One Dog Bark") in the deleted scenes on the Twin Peaks Blu-ray.
"There's music for an album called Thought Gang, but it's never been out. It needs some more work."
—David Lynch
"It's like a car. You fall in love with a car. You save up your money, you take a loan. And you're just thrilled with that car. You drive it, and you wash it, and you keep it perfect, and you're so happy going along. And then about a year later, it's kind of dirty with some scratches. And you're driving along and you see another car…"
—David Lynch on why he thinks love dies
"Painting will always be alive and well, but the digital world opens up a whole other thing. Photoshop is one of the most magical tools ever invented. It's incredible. (…) If you can think it, you can find a way to do it these days."
—David Lynch on digital technology
Below you'll find two different videos of the complete conversation followed by a Q&A with the audience. Check out the calendar for all remaining David Lynch themed events in Philadelphia this year, including the screenings by the PFS.
David Lynch Revisited: A conversation with David Lynch (September 10, 2014)