Eat your hair out, Donald Trump, because David Lynch's HAIR has its own fan club!
One of its most creative members, Jimmy Chen over at HTML Giant, found proof that the director/painter's signature hairstyle is actually fine art. By comparing the cowlick to seven world famous paintings, Jimmy takes you on a trip through art history based on David Lynch's coiffure…
David Lynch's Hair Compared To Fine Art
Art quiz! Can you identify all the art works? Find the answers below the collage.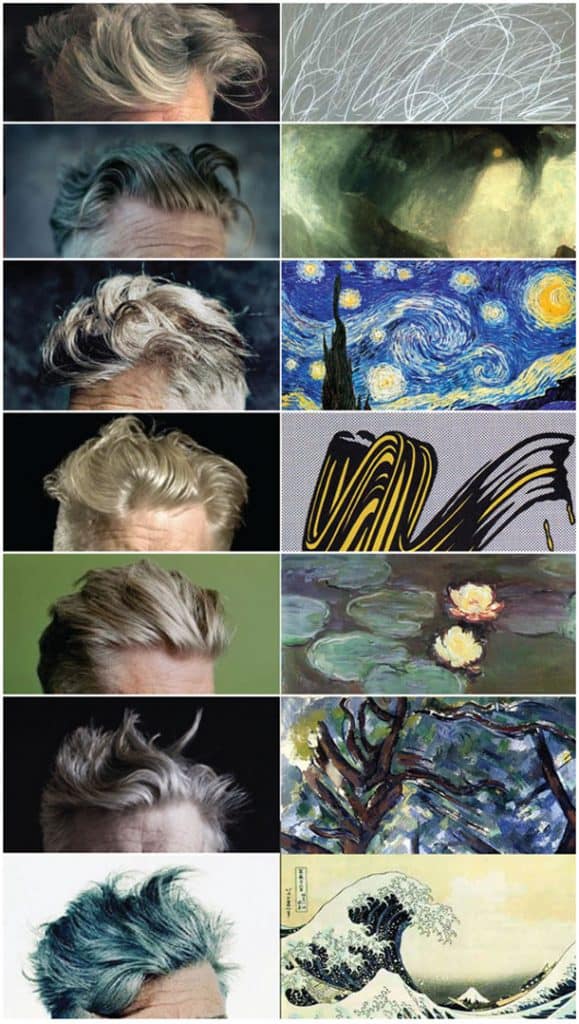 The scribbled graffiti of Cy Twombly
Joseph William Mallord Turner's Snow Storm: Hannibal and His Army Crossing the Alp (1812)
Starry Night by Vincent Van Gogh (June 1889, Post-impressionism)
Brush Stroke by Roy Lichtenstein (1965, Pop art)
Water Lilies by Claude Monet (1919, Impressionism)
The Big Trees by Paul Cézanne (1904)
The Great Wave off Kanagawa by Katsushika Hokusai (1832)
Hat tip to Franny Fluffer.