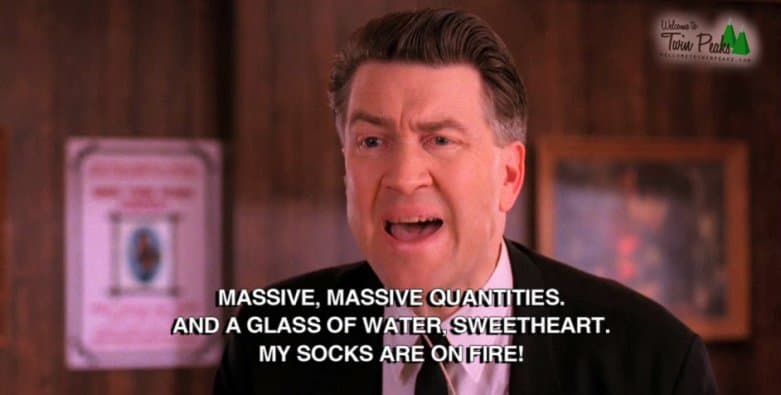 It's been 10 days since David Lynch publicly halted his involvement in the Twin Peaks continuation on Showtime, causing a thunderstorm among devoted fans. His 'surprise' departure got a lot of media coverage, gave birth to the #SaveTwinPeaks petition and even got the original cast to venture into the world social media to voice support for their beloved director.
A week and a half later, the show's passionate fans are still commiserating and discussing the future of Twin Peaks, but the rest of the world seems to have moved on. Even though Showtime is 'still trying', David Lynch and Mark Frost's silence is excruciating. Many of us are feeling helpless…
WEATHER UPDATE: THUMBS UP for your MASSIVE support, everyone!
The original #SaveTwinPeaks message was posted to more than 2,200 Facebook and 1,400 Twitter profiles simultaneously at 11:30 AM PT, good for 1.5 million social reach. On Twitter, the storm kept going for several hours generating 12,000 (re)tweets and reaching who knows how many millions of people.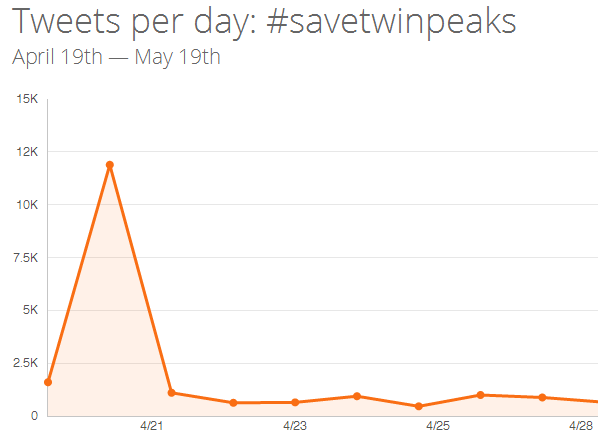 It's not easy to become trending, but achievement is its own reward and YOU DEFINITELY MADE IT THUNDER! Thank you!
As you know, birds sing after a storm… Let's hope it's a pretty song!
Q: Is David Lynch aware of #SaveTwinPeaks and fans trying to help?
Sherilyn Fenn: Of course he knows and he's humbly blown away and touched.

— Welcome to Twin Peaks (@ThatsOurWaldo) April 21, 2015
Previously…
It's time to create our own thunderstorm!
Let's reach Twin Peaks fans beyond our current communities.
Let's set David, Mark and Showtime's socks on fire and show them we absolutely want to see the Twin Peaks continuation they intend to make.
Let's give #SaveTwinPeaks a second peak and get it trending on Facebook, Twitter and Tumblr by sending massive, massive quantities of simultaneous updates on Monday, April 20 at 11:30 AM PST (convert to your timezone). Yes, that's Dale-Cooper-enters-Twin Peaks time!
Don't worry about being online at that time, because we made it very easy for you.
We created a so-called Thunderclap and when you add your support, the following message will be automatically posted to your social media account(s) at the specified time:
Let David Lynch and Mark Frost brew damn good coffee for Twin Peaks together. Showtime, please #SaveTwinPeaks!
http://thndr.it/1aZT7bs
Note: Though the message is directed to Showtime —the ball appears to be in their court— it's also a plea to David Lynch to keep talking and find a way back to Twin Peaks.
It's 100% safe and it just takes a few clicks to join. Please use all social media channels available to you, and rest assured: they will only be used for this single purpose. You can check their FAQ if you have any questions, or post them in the comments.
If you want to do more, you can!
Share the Thunderclap right now and get other people to join.
Change your profile picture.
Change your name (not your @username) on Twitter to #SaveTwinPeaks.
You have already signed the petition, right?
Manually post tons of #SaveTwinPeaks tweets and updates on Monday, April 20 around 11:30 AM PST.
Do you follow any Facebook pages that are fans of, or report on Twin Peaks, David Lynch, or related subjects? Ask them to schedule a post on Monday, April 20 at 11:30 AM PST (timezone) with the petition link and #SaveTwinPeaks.
Follow any Twitter users that are fans of, or report on Twin Peaks, David Lynch, or related subjects? Please tell them about this event.
Get a glass of water, sweetheart, because your socks will be on fire!