HAVE YOU BEEN LISTENING TO ME? HE SHOT THE DOG IN THE LIVING ROOM!
The day has come I'm actually surprised David Lynch's latest video doesn't involve a monkey named Jack.
For the promotional video for the David Lynch: Between Two Worlds exhibition in Brisbane, the artist took his 2004 mixed media piece Well… I can dream, can't I? and gave the naked female figure a voice. His own, heavily distorted voice.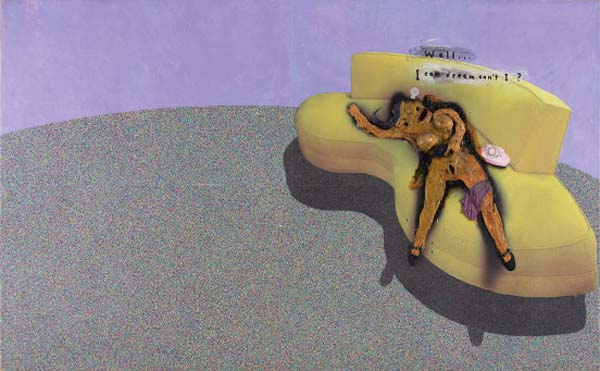 The unnamed character is on the phone with her friend, Marge, who complains about her abusive, trigger-happy husband.
Well, take a couple of Xanax and call the cops. He can't get away with treating you like this. Firing a weapon in the house?
D I V O R C E is what I'm thinking.
Although "the world's gone to hell in a handbag," there's one bright spot in their existence: David Lynch's exhibition at the Queensland Art Gallery Gallery of Modern Art. And with her purple panties halfway down her leg, David Lynch couldn't resist making the woman in the couch fantasize a bit about himself:
I hope he's there. He's such a dreamboat.
David Lynch: Between Two Worlds at Queensland Art Gallery Gallery of Modern Art Trailer
Directed by, who else, David Lynch.
Bonus: David Lynch at the press conference in Brisbane, Australia
David Lynch talks about drawing as a kid, Philadelphia, daytime dreaming, being inspired by people's behaviors and the moment he thought of the "fire walk with me" rhyme from Twin Peaks.
One time I was riding in a car on the way to shoot the pilot of Twin Peaks and these ideas started coming. And that was: "Through the darkness of future past, the magician longs to see, one chants out between two worlds: Fire walk with me."
Bonus #2: Andrew Sisters – I Can Dream, Can't I
David Lynch's art is often influenced by or at least titled after songs. Here's the likely inspiration for the painting above.