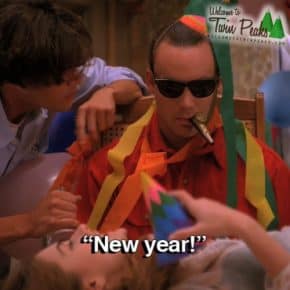 Here's an overview of all the 2014 "Happy New Year" tweets sent out by Twin Peaks cast and crew members in recent days.
Subscribe to the ever-growing Welcome to Twin Peaks Twitter list and check it regularly if you want to keep track of their tweets in the future.
Mark Frost
Is Twin Peaks co-creator Mark Frost hinting at the upcoming Twin Peaks Blu-ray release? Probably not. Or is he?
Happy New Year tweeple. I've got a feeling '14 is going to be a good one. Let's be careful out there!

— Mark Frost (@mfrost11) January 1, 2014
Kyle MacLachlan
After feeling peaksy on a rainy day before, Kyle MacLachlan was enjoying the last sunset of 2013 in Santa Monica, CA.
Dusk on New Years Eve in Santa Monica. Wishing all a healthy and prosperous 2014! pic.twitter.com/Td5a7pqact

— Kyle MacLachlan (@Kyle_MacLachlan) January 1, 2014
Ian Buchanan
Ian Buchanan's Christmas tree is the star of the actor's HNY tweet.
Happy New Year! Xoxox ! pic.twitter.com/YMw5sVKg0J

— Ian Buchanan (@KilttripUSA) January 1, 2014
Miguel Ferrer
Miguel Ferrer shows Albert Rosenfield's softer side. "The foundation of such a method… is love."
Happy New Year to all y'all. Lots of love and prosperity.

— Miguel Ferrer (@Miguel_J_Ferrer) January 1, 2014
Mädchen Amick
New Year's greetings from recent Twitter convert, Mädchen Amick.
https://twitter.com/auntwendythecat/status/418234581062406145
Jennifer Lynch
Jen Lynch, author of The Secret Diary Of Laura Palmer, kicks off 2014 working on something new.
Writing in the New Year. Blessings to all. http://t.co/SD4aJDb3fA

— JEN LYNCH (@thatjenlynch) January 1, 2014
Alicia Witt
Alicia Witt, who played Gersten Hayward, links to a New Year's eve blog post, which she concludes with: "i hope 2014 is a beautiful year for all of you. here's to It!!"
new year's eve thoughts http://t.co/Lh2lr881jI

— alicia witt (@aliciawitty) December 31, 2013
Chris Mulkey
UPDATE: The actor who portrayed Hank Jennings sends his New Year's wishes from South California.
Happy new year from sunny so cal

— Chris Mulkey (@chmulkey) January 7, 2014
David Lynch
UPDATE: Here it is…
Dear Twitter Friends, Happy New Year 2014. I hope it's a good year for all of us. Your friend, David

— David Lynch (@DAVID_LYNCH) January 7, 2014
That's it so far. Nothing from @DAVID_LYNCH yet —it usually takes him a few days to wish his Twitter friends a happy new year— but I took the liberty of turning one of the director's previous New Year's tweets into a shareable image:
And here's my New Year's tweet, with the help of sweet-voiced Leland Palmer:
Sing Hallelujah, come on, get happy in 2014! Happy New Year from Welcome to Twin Peaks (http://t.co/JIGm3mj4C6) pic.twitter.com/0WRsa7lpar

— Welcome to Twin Peaks (@ThatsOurWaldo) January 1, 2014