Yesterday at the International Music Summit in Ibiza, David Lynch announced his upcoming electronic album to an audience of hundred people, including BBC's Rob Da Bank and KCRW's Jason Bently.
Update: My original, Spanish source was incorrect. According to David Lynch and Sunday Best Recordings, the album will be released by the end of 2011. Probably October or November. The yet untitled album will have 14 tracks (including Good Day Today/I Know) and they are talking about a live show à la Industrial Symphony #1!
Update #2: Crazy Clown Time will be released November 8th 2011 and will feature vocals from Yeah Yeah Yeah's leader Karen O on its first song, called "Pinky's Dream". Here's the full tracklist via Pitchfork:
Pinky's Dream
Good Day Today
So Glad
Noah's Ark
Football Game
I Know
Strange and Unproductive Thinking
The Night Bell With Lightning
Stone's Gone Up
Crazy Clown Time
These Are My Friends
Speed Roadster
Movin' On
She Rise Up
The filmmaker didn't travel all the way to the party island for the announcement, but spoke live via a conference call from his studio just off Mulholland Drive in Los Angeles, where he was joined by Big Dean Hurley who mastered the album. The album which is due for release in June 2011, will include about a dozen songs inspired by modern blues, folk, indie, dance music, and the work of Lynch's longtime collaborator, Angelo Badalamenti. While the overall atmosphere is very vintage, the production is almost 100% digital technology.
"The songs are like pictures for me, they all have stories. There is a scene for each song," said Lynch while enjoying a skimmed milk espresso.  Asked whether he'll ever perform his songs live, the director answered: "I'm afraid that will not happen, my friend."
» Listen to Good Day Today/I Know to get an idea of how David Lynch's electronic album will sound like.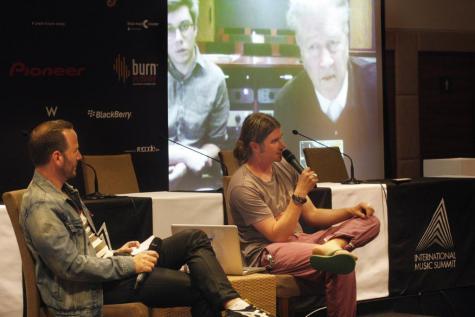 Source: Ultima Hora Ibiza (Spanish).