A dog drifts through a parking lot, littered with last night's trash and beer bottles. The club's neon patron-snatcher flickers back and forth between two images of a couple doing the jitterbug.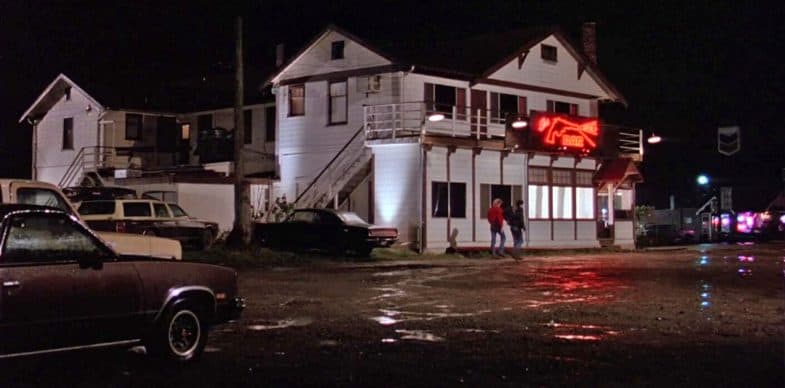 The Roadhouse. A warm but slightly seedy honky-tonk. A girl singer in black leather is up on the small stage, fronting a four-piece, avant-garde rock combo. She's singing a song called "The Nightingale."
Over the past few years, the population of Welcome to Twin Peaks has steadily shared old and new music reminiscent of Twin Peaks via the Facebook page and Twitter. Some of those songs are very clearly inspired by Angelo Badalamenti and David Lynch's soundtrack, a few are soundalikes and others are only similar in tone and mood. Gathering suggestions from a wide range of Twin Peaks fans, it has become a diverse selection of music from all decades and a multitude of genres, from jazz over contemporary doo-wop to electronic music.
Up until now, only a number of these dreamy and twangy songs were collected in Twin Peaks: Nighttime At The Roadhouse, a Spotify* playlist created early 2012 to fantasize what a typical night at the Roadhouse in Twin Peaks, WA would sound like these days. You know, the kind of music you might hear when the show returns in 2016. From now on, this playlist will be growing on a more regular basis so make sure you FOLLOW it within Spotify to keep track of frequent updates in the future!
UPDATE (May 2017): It goes without saying that all the songs you hear at the Bang Bang Bar in the new series will be instantly added to this playlist.
A big thanks to everyone who contributed and please keep your suggestions coming!
Two additional Twin Peaks themed playlists are also available: Leland Palmer Gets Happy and Isn't It Too Dreamy? More coming!
Nighttime at the Roadhouse, A Fan-Sourced Playlist of Twin Peaks Music
Hit the play button, close your eyes and imagine yourself at the smoky Twin Peaks Roadhouse with Bobby, Donna, Cooper, the Log Lady, and a bunch of Bookhouse Boys…
(Open the playlist in Spotify and click the FOLLOW button)