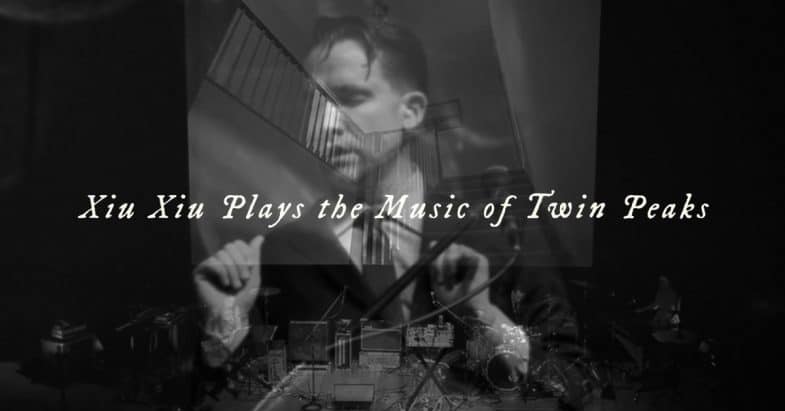 UPDATE: As a Record Store Day 2016 exclusive, Polyvinyl Records is releasing Xiu Xiu Plays the Music of Twin Peaks on April 16, 2016. Scroll down for the track listing, the cover, their recording of Julee Cruise's Falling and an official video for Nightsea Wind & Into The Night.
UPDATE #2: The 2XLP has sold out, but a second pressing expected August 19, 2016 is now available for pre-order.
Experimental post-punk band Xiu Xiu was commissioned by the Gallery of Modern Art in Australia to provide a new interpretation of the music from Twin Peaks, emphasizing its chaos and drama, for a special performance accompanying the David Lynch: Between Two Worlds exhibition. Band leader Jamie Stewart explains his love for the soundtrack by David Lynch and Angelo Badalamenti:
The music of Twin Peaks is everything that we aspire to as musicians and is everything that we want to listen to as music fans. It is romantic, it is terrifying, it is beautiful, it is unnervingly sexual. The idea of holding the 'purity' of the 1950s up to the cold light of a violent moon and exposing the skull beneath the frozen, worried smile has been a stunning influence on us. There is no way that we can recreate Badalamenti and Lynch's music as it was originally played. It is too perfect and we could never do its replication justice. Our attempt will be to play the parts of the songs as written, meaning, following the harmony melody but to arrange in the way that it has shaped us as players.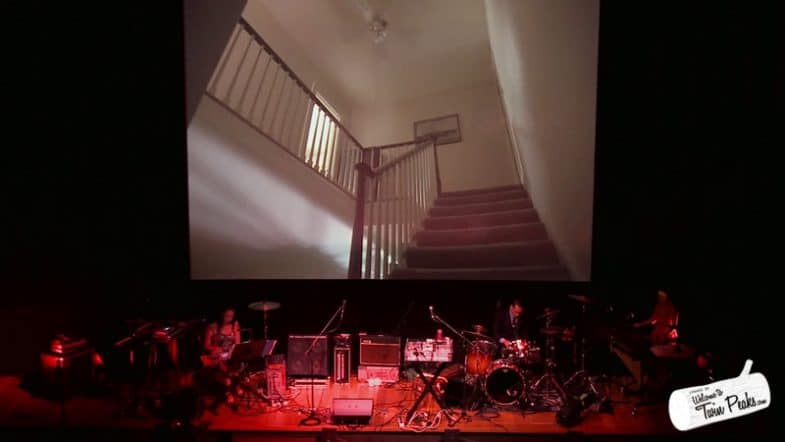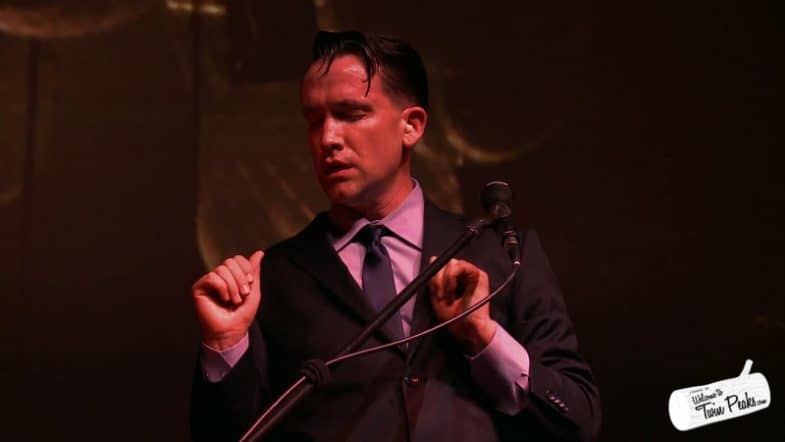 Xiu Xiu Plays the Music of Twin Peaks at QAGOMA
In this 14-minute extract from their Twin Peaks tribute show on Saturday, April 18 at the Gallery's Australian Cinémathèque, Xiu Xiu performs The Pink Room/Blue Frank, Sycamore Trees, The Bookhouse Boys and Packard's Vibration. Would you be interested in hearing the entire set? Let's hear it in the comments below.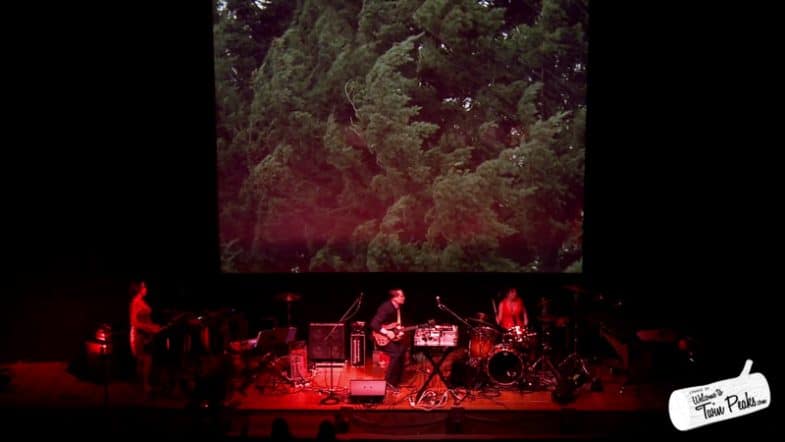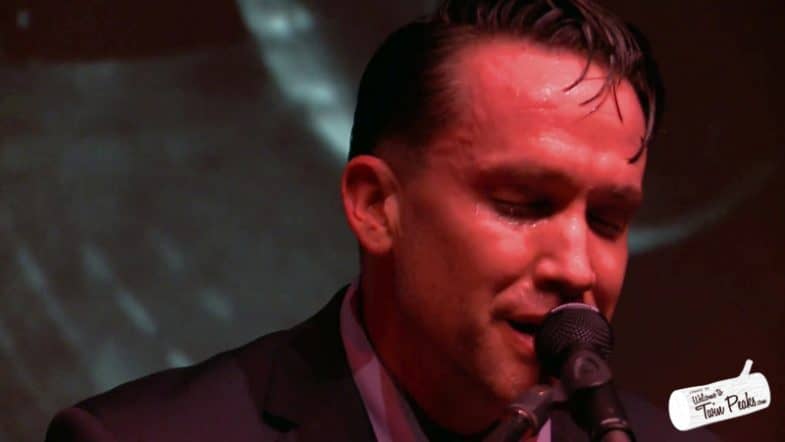 Xiu Xiu Plays the Music of Twin Peaks | 'David Lynch: Between Two Worlds' at QAGOMA
The band explains how they approached the project. This video includes snippets from their live interpretations of Laura Palmer's Theme, the Twin Peaks Theme, Sycamore Trees, Freshly Squeezed, Harold's Theme and The Pink Room.
Shayna Dunkelman: vibraphone, drum set, keyboard
Angela Seo: synth, percussion, noise
Jamie Stewart: vox, guitar, synth and noise
Bonus: HEXA Factory Photographs (extract)
HEXA is a project by Lawrence English and Jamie Stewart (Xiu Xiu) exploring the physicality of sound and its ability to infiltrate and occupy the body. For the exhibition 'David Lynch: Between Two Worlds' at the Gallery of Modern Art, HEXA presented a new composition responding to Lynch's photographs of disused factories. Using the factory photographs as both a literal and metaphoric source, their performance drew root from the texture of Lynch's images, the imagined and actual spaces, and the spectral histories contained within them.

Commissioned for 'David Lynch: Between Two Worlds' at the Gallery of Modern Art, 14 March – 7 June 2015
Recorded: Saturday 18 April 2015, Australian Cinémathèque, Gallery of Modern Art

Sound: Peet Gardner
Camera: Mia Forrest, Denny Ryan
Editing: Judy Yeh, Mia Forrest
Xiu Xiu Plays The Music of Twin Peaks Tour
Keep an eye on their tour page for the latest details.
UPDATE: Xiu Xiu Plays the Music of Twin Peaks LP
Xiu Xiu's interpretation of the Twin Peaks soundtrack, mixed by Greg Saunier of Deerhoof and pressed on 180g red and blue vinyl in a gatefold jacket with a download code, will be released by Polyvinyl Records on Record Store Day 2016 (4/16/2016). Here's the cover, track listing and the album recordings of "Falling" and "Into The Night."
Xiu Xiu – Falling
Xiu Xiu – Nightsea Wind & Into The Night (Video)
Official video (via Pitchfork) directed by Diego Barrera.
Xiu Xiu Plays the Music of Twin Peaks – Tracklist
Laura Palmer's Theme
Into the Night
Audrey's Dance
Packard's Vibration
Nightsea Wind
Blue Frank/Pink Room
Sycamore Tree
Harold's Theme
Dance of the Dream Man
Falling
Love Theme Farewell
Josie's Past