February 20th is not only Richard Beymer's birthday, it's also Cherry Pie Day. It is the second most popular pie in the United States, only just behind apple pie. Exactly why February 20th was chosen to celebrate the delicious pie is unknown, especially since in North America it's most commonly eaten midsummer following the harvest of cherries. But does it matter?
When a few years ago I paid my first visit to the Double R Diner, or Twede's Café as it is now called, I found the following message written on their bathroom wall:
The cherry pie killed Laura Palmer.
It has since been removed. Massive, massive quantities of their warm cherry pie with whipped cream or vanilla ice may kill you, but don't let that hold you back from ordering a whole pie when you stop by!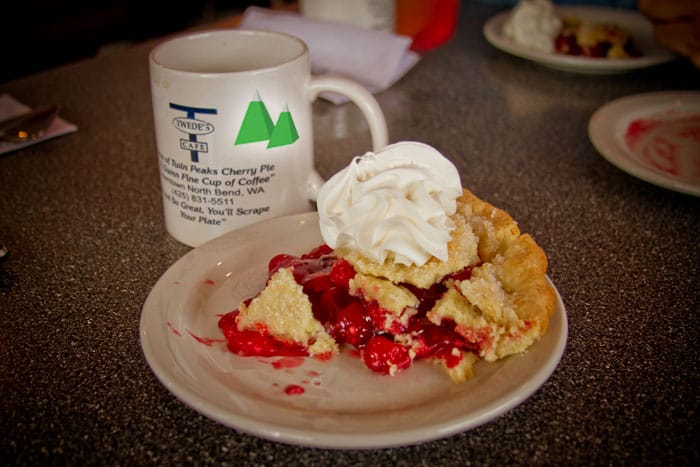 And responding to a question from a fan, David Lynch once tweeted:

Wikipedia on cherry pie:
Traditionally, cherry pie is made with tart rather than sweet cherries as it is easier to control how sweet the pie eventually becomes and also eventually translates to a sharper taste. Morello cherries are one of the most common kinds of cherry used, but others, like the native black cherry, are also occasionally utilized.
Some Twin Peaks cherry pie recipes can be found here, here and here. Never made one in my life, so feel free to share your perfect recipe in the comments.
http://www.youtube.com/watch?v=X6Eh7CJamGE