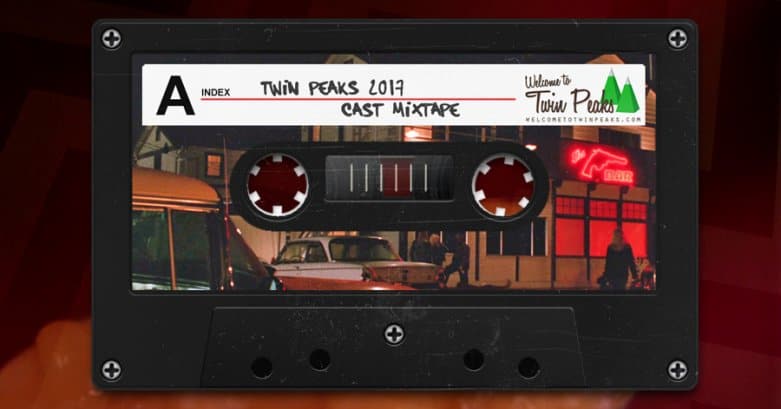 Julee Cruise may be getting company from Sky Ferreira and Chrysta Bell at the Roadhouse, and Nine Inch Nails could very well be the new house band at the Power And The Glory. And maybe the FBI enlisted a new batch of rock and roll agents like Eddie Vedder and Trent Reznor since agents Chet Desmond (Chris Isaak) and Phillip Jeffries (David Bowie) mysteriously disappeared.
But instead of writing and speculating about the numerous musicians on the mammoth Twin Peaks 2017 cast list, I decided to present them through a mixtape featuring their most David Lynch-conjuring work. Opener "Powder Blue" by The Cactus Blossoms, for instance, effortlessly evokes Blue Velvet's title sequence. You'll detect hints of Angelo Badalamenti in Trent Reznor's cinematic instrumentals, or even direct Twin Peaks quotes in Sky Ferreira's "Night Time, My Time." Admittedly, "Nothing As It Seems" by Pearl Jam was selected because of its title, yet it emerges out of Chromatics' Last Wish as if it was hiding in there like… BOB?
David Lynch himself pops up more than once, playing the guitar on Chrysta Bell's "Real Love" and "Swing With Me," and on Rebekah Del Rio's "No Stars" which he co-wrote with John Neff. And how else to conclude this eclectic 82-minute mixtape than with a song by one of his favorite artists and basically the precursor to Julee Cruise's "Falling," Elvis Presley's "Can't Help Falling In Love" covered by… Monica Belucci!
Discover the artists and bands on the new #TwinPeaks cast list through this dark and Lynchian mixtape.
The majority of these 25 tracks are by recording artists and/or their bands we get to see -whether on stage or not- in the new series, but it also includes songs performed by new cast members that just fit the mixtape's dark and melancholic mood. One thing's for sure: many of these musicians would've never shared a track list if it wasn't for the series coming back! So enjoy this trip through the cast of Twin Peaks 2017 and who knows, it may provoke some visions of new mysteries…
Twin Peaks fan? Like moody, brooding dream pop punctuated by occasional bursts of frenetic jazz and experimental noise, topped with a dollop or two of vaguely creepy golden oldie? Well then, this is the perfect packet of artificial sweetener to drop into your Friday morning grind.
—Gary Petty
Twin Peaks 2017 Cast Mixtape
Currently listening to the Twin Peaks 2017 cast mixtape by @ThatsOurWaldo
The Cactus Blossoms (Jack Torrey & Page Burkum) – Powder Blue
Trent Reznor & Atticus Ross – It Catches Up With You
Sky Ferreira – Night Time, My Time
Chrysta Bell – Real Love
Richard Chamberlain – All I Have To Do Is Dream
Robert Jones (Caleb Landry Jones) – But She Don't Really Mind
The Veils (Finn Andrews) – Candy Apple Red
Trent Reznor – Videodrones & Questions
Chromatics (Ruth Radalet) – Last Wish
Pearl Jam (Eddie Vedder) – Nothing As It Seems
Au Revoir Simone (Annie Hart, Erika Forster & Heather D'Angelo) – Let The Night Win (C U P remix)
How To Destroy Angels (Trent Reznor & Mariqueen Maandig) – Hallowed Ground
Jennifer Jason Leigh – Almost Blue
Chromatics – Disintegration
Solardrive (Balthazar Getty) – Where We Go From Here
Chrysta Bell – Swing With Me
Sharon Van Etten – You Know Me Well
Trent Reznor & Atticus Ross – What Have We Done To Each Other?
Au Revoir Simone – Boiling Point
Nine Inch Nails (Trent Reznor & Robin Finck) – 8 Ghosts I
Nine Inch Nails – 5 Ghosts I
Rebekah Del Rio – No Stars
Julee Cruise – I Float Alone
Monica Bellucci – I Can't Help Falling In Love
Eddie Vedder – Dream A Little Dream
Perfect soundtrack to disassemble a TV to!
—Athame 412
Please consider following Welcome to Twin Peaks on Mixcloud for future David Lynch and Twin Peaks-themed mixtapes, and you may want to check out the Spotify playlists too for more Lynchian vibes.