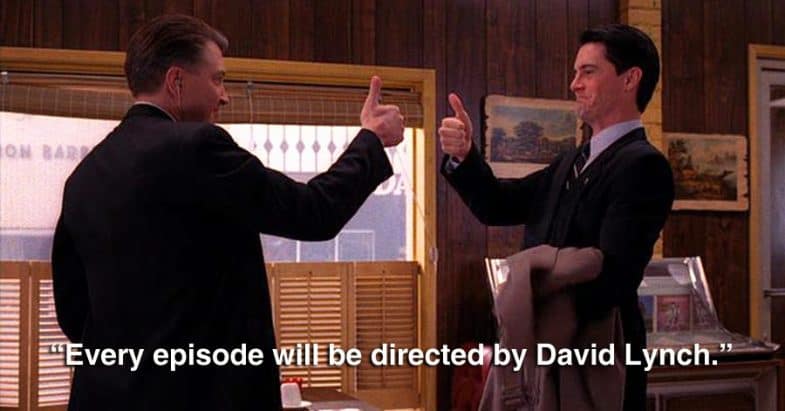 Twin Peaks is saved* and David Lynch is back.
(*But beware of BOB!)
After six weeks of rallying to #SaveTwinPeaks and also exactly one year after the Twin Peaks Blu-ray announcement, Twin Peaks fans can finally sleep well and have both wonderful and strange dreams again about that upcoming new season. Wow Bob wow! On a date that reads the same forward and backward, David Lynch and Mark Frost announced that the show is definitely coming to Showtime, despite the "rumors."
Dear Twitter Friends, the rumors are not what they seem ….. It is !!!
Happening again. #TwinPeaks returns on @SHO_Network

— David Lynch (@DAVID_LYNCH) May 16, 2015
The premium cabler followed the announcement with an official statement from their CEO, David Nevins:
This damn fine cup of coffee from Mark and David tastes more delicious than ever. Totally worth the extra brewing time and the cup is even bigger than we expected. David will direct the whole thing which will total more than the originally announced nine hours. Pre production starts now!!
Banzai! Whether this translates into longer or more episodes, or even an entire extra season is unknown at this point.
In an e-mail to Sherilyn Fenn, who will return as Audrey Horne, the director thanked the cast for playing a major role in making the negotiations successful, and everyone who rallied to save Twin Peaks.
— sherilynfenn (@sherilynfenn1) May 16, 2015
First reactions from the original cast members…
Kyle MacLachlan (Dale Cooper)
Welcome back again!! #TwinPeaks Special Agent Dale Cooper! on #Showtime #damnfinecoffee

— Kyle MacLachlan (@Kyle_MacLachlan) May 16, 2015
But it wasn't a dream. It was a place. And you and you and you…and you were there… Good to be home. #TwinPeaks pic.twitter.com/UvICThbmRq

— Kyle MacLachlan (@Kyle_MacLachlan) May 16, 2015
Mädchen Amick (Shelly Johnson)
We want to thank ALL of you #peaksies for helping us #SaveTwinPeaks – WE DID IT!!!!!! https://t.co/TBlR9kMBDd

— Mädchen Amick (@madchenamick) May 16, 2015
Sherilyn Fenn (Audrey Horne)
WE DID IT!!! WE DID IT!!!!! PRAISE GOD!!! THANY YOU ALL YOU AMAZING FAMILY????????

— sherilynfenn (@sherilynfenn1) May 16, 2015
AUDREY LIVES???

— sherilynfenn (@sherilynfenn1) May 16, 2015
Charlotte Stewart (Betty Briggs)
Twin Peaks is alive! ALIVE!!!!

— Charlotte Stewart (@RealCharStewart) May 16, 2015
Miguel Ferrer (Albert Rosenfield)
Looks like it's back on, rumored to have an order of more than nine as first reported. A good day for all Twin Peaks fans, myself included.

— Miguel Ferrer (@Miguel_J_Ferrer) May 16, 2015
Catherine E. Coulson (The Log Lady)
"I am thrilled that David and SHOWTIME were able to work out a plan so we can make more episodes of Twin Peaks?." (Source: Hitfix)