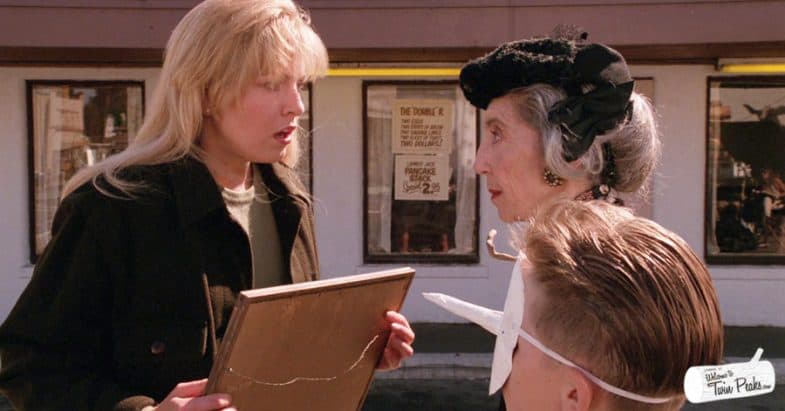 It's always a thrill to discover newly unearthed behind the scenes photos from Twin Peaks: Fire Walk with Me. Thanks to Mark Wasson and his Mark Hits The Road project, here are eight previously unpublished photos of David Lynch and his crew preparing a shot from the scene where Laura Palmer meets the Chalfonts outside the Double R Diner.
Back in 1991, Mark was on a road trip and visiting some of the pilot's filming locations in Snoqualmie and North Bend, WA, when he stumbled upon a film crew outside the Mar-T-Cafe, now known as Twede's Cafe.
When I got there, Sheryl Lee was still in costume as Laura, and some of the actors, including James Marshall, were signing autographs and posing for pictures with onlookers. Then they set up one last brief shot. In the movie, Laura is loading up the car for Meals on Wheels when she is approached by Mrs. Tremond/Chalfont – Francis Bay – and her grandson – Jonathan J. Leppell – who present Laura with a picture of a room, telling Laura that the picture would "look nice on your wall". Then there is a shot from Laura's perspective of the picture. It was that shot of the picture that I saw them set up and film before they wrapped up for the day.
Making Twin Peaks: Fire Walk With Me – North Bend, Washington
Mar-T-Cafe becomes the RR Diner. The modified sign pole doesn't appear in the movie though.
Sheryl Lee in costume and David Lynch in the director's chair. Two eggs, two strips of bacon, two sausage links, two slices of toast, two dollars. That's the "Double" R!
Sheryl Lee signing autographs for some fans. Looks like she's signing the Secret Diary of Laura Palmer?
David Lynch and James Marshall outside the Double R Diner. James was not shooting (hence the natural hair color), but just chilling out on the set.
Catherine E. Coulson and David Lynch. The Log Lady is not in this scene either, but just hanging out with her friends. Behind the camera is cinematographer Ron Garcia.
James Marshall takes some time to sign items for onlooking Twin Peaks fans. Also, an essential cameo of a logging truck.
Frances Bay and Jonathan J. Leppell getting prepped for the shot. Who's the man with the mask?
Ron Garcia set ups the shot from Laura's point of view.
Recognize any fans or crew members in these shots? Please share your knowledge in the comments!
Check out Mark Wasson's site, Mark Hits The Road.