Thought Gang's long-awaited self-titled album is out now on vinyl & CD (Amazon) and streaming platforms. Listen to the album right here and use the comments to share your thoughts, gang!
Thought Gang Mixtape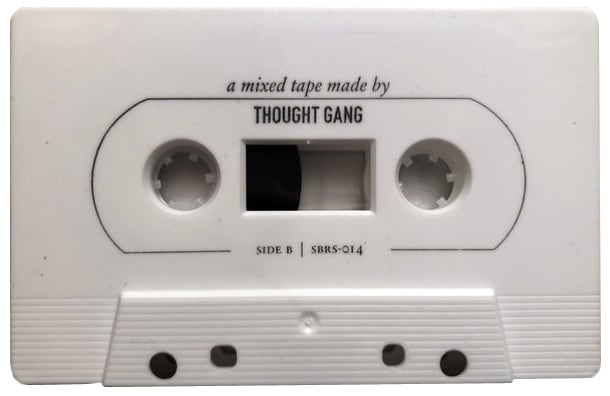 Thought Gang also released a mixtape on cassette exclusively for members of the Sacred Bones Record Society. Most of the songs on its tracklist are included in this Spotify playlist.
A1 –Charlie Parker Lover Man
A2 –Morris Stoloff & The Columbia Pictures Orchestra Moonglow
A3 –Dave Brubeck Blue Rondo À La Turk
A4 –Steve Badalamenti Moonlight In Vermont
A5 –Count Basie April In Paris
A6 –Chet Baker My Funny Valentine
B1 –Captain Beefheart Dust Blows Forward N' The Dust Blows Back
B2 –Duke Ellington & Ray Brown Fragmented Suite For Piano And Bass (Movement I)
B3 –The Big Three Trio Wrinkles
B4 –Dizzy Gillespie Monteca
B5 –John Ewing And The Allstars Streamline
B6 –Oscar Peterson Night In Tunisia
B7 –Bill Evans Here's That Rainy Day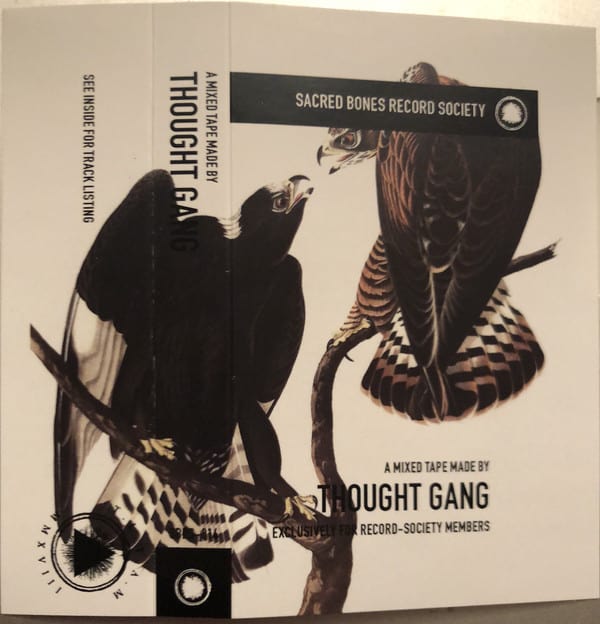 Thought Gang Credits:
Angelo Badalamenti: Vocals, Synth, Piano
David Lynch: Lyrics, Percussion, Guitar on 'One Dog Bark,' Vocals & Synth on 'Jack Paints It Red'
Reggie Hamilton: Acoustic Bass, Electric Bass, Guitar
Gerry Brown: Drums, Percussion
Tom Rainer: Keyboards, Clarinet, Saxophone
Vinnie Bell: Guitar on 'A Real Indication'
Grady Tate: Drums on 'A Real Indication' and 'Jack Paints It Red'
Buster Williams: Acoustic Bass on 'A Real Indication'
Produced by David Lynch and Angelo Badalamenti. All music published by Anlon Music Co. (ASCAP) / Bobkind Music Inc. (ASCAP), administered by UMG.
Recorded primarily at Cherokee Studios, Los Angeles during May 1992 – May 1993 except: 'A Real Indication' recorded at Excalibur, NYC 1991, 'The Black Dog Runs at Night' recorded at Badalamenti's 34th Street, McAlpin House studio in 1991.
Mixes by David Lynch, Bruce Robb, Art Polhemus, John Neff, Dean Hurley
Engineered by Bruce Robb, John Karpowich, Art Polhemus
Assistant Engineers: Josh Achziger, Mike Gibson
Album sequencing by Dean Hurley
Mastered by Mike Bozzi at Bernie Grundman Mastering, Los Angeles
Lacquer cut by Josh Bonati at Bonati Mastering, NYC