UPDATE: Looking for news regarding the Twin Peaks Blu-ray? We have the latest.
Starting today, Universal UK's David Lynch Collection Box Set on Blu-ray is available for pre-order on Play.com purchase at Moviemall (£19.99).
Important news regarding the audio/video glitches on this release:
Universal Pictures UK always aims to achieve a high level of satisfaction from our customers, so we would like to apologize for any disappointment caused in respect of our product.

If you wish to exchange your UK purchased Blu-ray discs of `Lost Highway', `Twin Peaks: Fire Walk with Me' or `Wild at Heart' we ask that you send us proof of purchase (the original receipt or photo proof) along with your name and address to [email protected]. Upon receipt, we will post you a copy of the corrected relevant film(s) as requested. Please note we will post to any country as long as a UK product was originally purchased. This Exchange Offer will be applicable only until end of November 2012.
Referred to as "the most important filmmaker of the current era" by The Guardian, David Lynch has carved out a stunning portfolio of work investigating the dark and seedy side of human nature with a delicious sense of black humour. Bringing together six of his most well-known films on Blu-ray for the very first time, this boxset also includes several of Lynch's most famous short films, experimental films, rare interviews, documentaries, outtakes and more.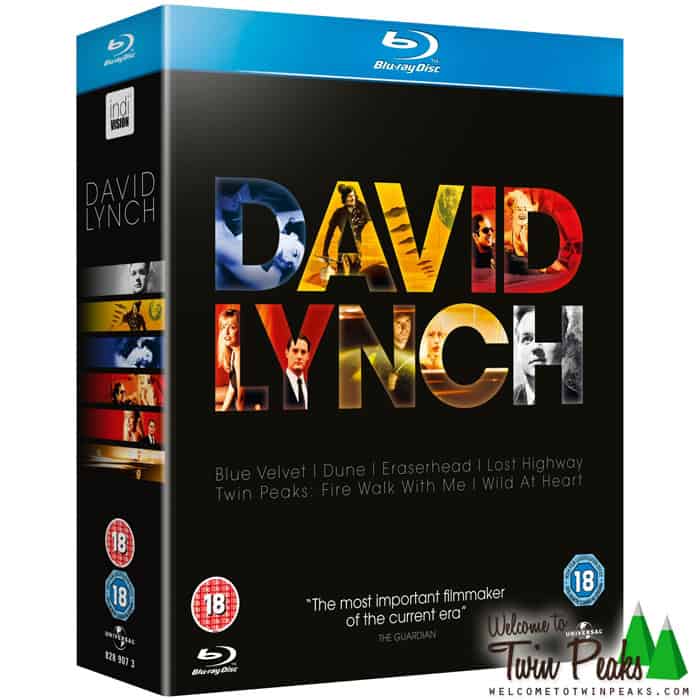 The 6 Blu-ray discs include the following movies and special features.
Eraserhead:
LYNCH ONE documentary (81.42)
Six Men Getting Sick (03.45)
The Alphabet (03.44)
The Amputee Take 1 (04.50)
The Amputee Take 2 (04.04)
Dune:
Destination Dune (06.16)
Impressions of Dune (38.02)
Interview with Golda Offenheim, production co-ordinator (25.00)
Theatrical trailer
Blue Velvet:
Interview with Dennis Hopper (45 Mins)
Mysteries of Love documentary (70 Mins)
Three Outtakes
Siskel & Ebert "At the Movies"
Four Vignettes
Theatrical trailer
TV Spots
Wild At Heart:
DUMBLAND (all eight animated episodes) (35.00)
The Grandmother (33.36)
Lumiere and Company – 1995 (00.58)
Lost Highway:
Four Intervalometer Experiments: Steps (03.38) / Dining Room (02.55) / Groper (00.18) / Sunset (06.03)
The Darkened Room (08.16)
Boat (07.16)
Lamp (30.20)
Out Yonder – Neighbour Boy (09.38)
Industrial Soundscape (10.20)
The Bug Crawls (04.12)
Twin Peaks: Fire Walk With Me
Overall, this is an affordable box set for those of you who haven't purchased any of these David Lynch movies before. Over 12 hours of material will definitely keep you busy. But as you can see, there are no special features at all for the Twin Peaks prequel, let alone any deleted material. And the lack of deleted scenes on the Blue Velvet disc is simply remarkable, so fans should really consider purchasing the Blue Velvet 25th Anniversary Blu-ray separately.
Release date: June 4 2012.
Price: £49.99 (free delivery in the UK)
Order: David Lynch Collection Box Set (6 Blu-ray discs).