"Buster… It's a beautiful world!"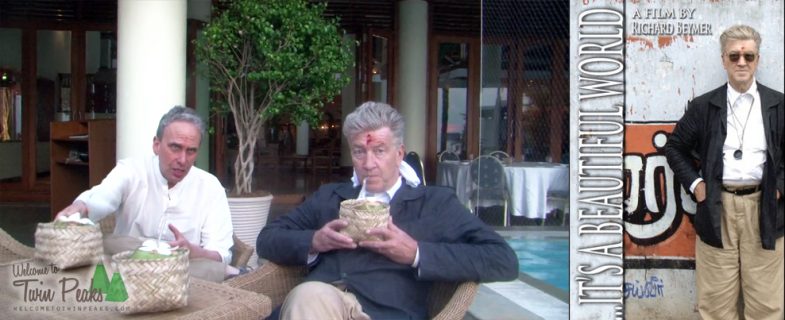 Yes, that's David Lynch sipping coconut juice at a seaside resort in India.
With It's A Beautiful World, Richard Beymer (Benjamin Horne in Twin Peaks) gives us the unique opportunity to become part of David Lynch's entourage on a trip in 2009 to India for his upcoming film on Maharishi Mahesh Yogi, the founder of Transcendental Meditation. "Following his master's footsteps", we witness the artist/director going through a thrilling experience that is probably comparable to that of a devoted David Lynch fan visiting the "Eraserhood" in Philadelphia, Mulholland Drive in L.A., and Snoqualmie Falls in Washington state.
"Richard, that tree… Two thousand five hundred-year-old tree!"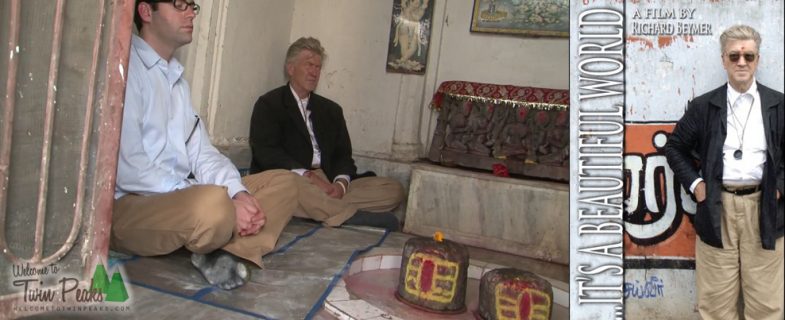 Even if you're not particularly interested in a first-person view on his 10-day journey, you will definitely enjoy David Lynch's delightful remarks and entertaining stories about his movies and his childhood (that army helmet story!). It's A Beautiful World by Richard Beymer (102 minutes) is available for purchase ($8.99) or 3-day rental ($2.99) via Vimeo On Demand and comes highly recommended!
Included as an extra with the purchase is Richard Beymer's Here We Are One More Time, his formerly hard-to-find first-person video report of the 1998 Twin Peaks Fest that was also attended by Michael J. Anderson, Walter Olkewicz, Don S. Davis, Jan D'Arcy and Grace Zabriskie.
David Lynch is still actively working on Maharishi, so you can expect to hear more about that project in the future. Oh, and we asked Richard Beymer where "Bucky" (David Lynch) and "Buster" (Richard Beymer) got their nicknames. Apparently it all started right before the shoot with an e-mail to Richard in which David addressed him as "Buster". Richard replied that he hadn't heard anyone named like that since he was a kid. And in his next e-mail, David signed off with "Bucky". So the two nicknames you hear throughout the documentary originated with David Lynch.
"Look at this left turn. Goodnight, Louise!"
It's A Beautiful World, a film about David Lynch by Richard Beymer (Extra Trailers)