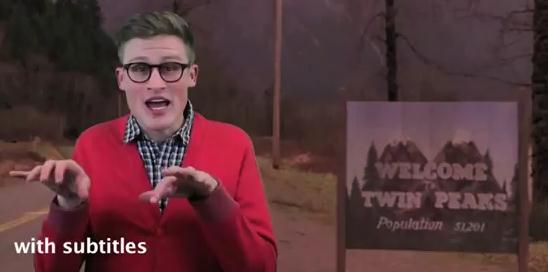 Blue Velvette is a sublime Bobby Vinton-sampling rap song about David Lynch, written and performed by L.A. comedian/filmmaker Daveo Mathias aka Cancer Merchant. Enjoy the music video below, stuffed with Blue Velvet and Twin Peaks footage and references to almost every David Lynch movie. Explicit language, by the way.
If you like Blue Velvette, then check out MC Chris' Twin Peaks rap too:
And Schäffer The Darklord, if you're reading this, follow suit and release that awesome David Lynch rap you performed at The Pink Room!
Blue Velvette lyrics:
Blue velvet bitch bleeding on a lost highway
Dude I'm David Lynch cuz I see everything my way
Dude this shit's a cinch I'll have the film finished by Friday
With subtitles transcribed for screenings in Taipei
Yeah I'm a world renowned weirdo
Don't drive a Lambo, though, I steer my John Deere slow
And keep my story straight like the United States
And ignore extensive histories of murder and rape
Cuz the grass might be greener but its grotesque underneath
It's all got me going Gonzo like my name was Hunter T.
And fear and loathing are the only fabrics in our clothing
Making every Ms. a mystery, and I really like to know things
I'm stuck in one of Reagan's bad acid trips
Where George Jr. snorts white stripes off his flaccid dick
And Lyndon B. is dropping LSD in the Prez's seat
Getting blown away by the CIA like Kennedy
So let's smoke Bud Holly with Salvia Dali
And masturbating to Marilyn while she munches on some mollies
And these candy colored clowns chug coffee compulsively
That's just life in Lumberton, surrounded by some wholesome trees
I guess I'm avant garde with a dash of old school
But who's dick I gotta dry hump to start winning some gold dudes?
The Oscars are a sham, its all just glitz and glam
So I sent mine in to Cash 4 Gold & get paid by the gram
But I'm still kickin' it at Cannes like no one else can
The only American dream with flocks of French fans
So lend me your ears, and I ain't talking Van Gogh
One hit will make you trip, but it takes two to tango
Cerebral surrealist writing screenplays in my sleep
In dreams you walk with me while I leapfrog sheep
But all I'm really trying to do is see those Twin Peaks
Then leave her lying next to Laura wrapped up in sheets of
Yeah they say that I'm not normal but normal's weird to me
Like a million motherfuckers watching Transformers 3
I've seen Jeffrey getting beaten by Daddy and his friends
But its somehow more disturbing watching Two & Half Men
I'm David Foster Wallace chatting with Charlie Rose
Explaining simple shit you'd think a host would know
But I'm just full of beans, but the beans is where its at
So I'm blowing more steam than that fucking bitch Barack
I get Frank in the Booth, call me Dennis Hip-Hopper
Is it me, or does that performance kinda remind me of your father?
A fragile little boy filled with decades of abuse
Embodiment of America, fuck anything that moves
But I'm just one of the goons like a young Jack Nance
Sippin' Pabst, taking hits off the oxygen masks
While I'm chewing on my favorite gum, I'm oh so in style
Getting sex in the city and the sticks like Kyle
Maybe MacLachan and my glock can spray your apartment
With lead til those landlords stop charging that hard rent
And Bill O'Reilly's got a bullet making him look Hindi
He might be braindead but still finds ways to offend me
Baby wants to fuck – I swear, I'm so Sigmund
Making Rosselini touch my weinie in front of her shit son
And Laura Dern's all concerned plus she's got a b.f.
But he don't treat her right like an animatronic T-Rex
She might be filled with secrets but I'm tryna top her off
While she tips me off to clues and disobeys her pops
In a blood red room while midgets breakdance backwards
Asking whats a beetle in the mouth of a black bird?
Singing in the dead of night, but not making a sound
Like any tree that topples outside my home town
Yo the Empire ain't Inland, we outsourced it elsewhere
But you'll never fucking see it like universal health care
So let's toast to fucking and it better be polite
Or they'll take me for a ride that leaves me red, blue, and white
But even though I'm getting paid at excremental rates
Its enough to keep me chillin' in that transcendental state