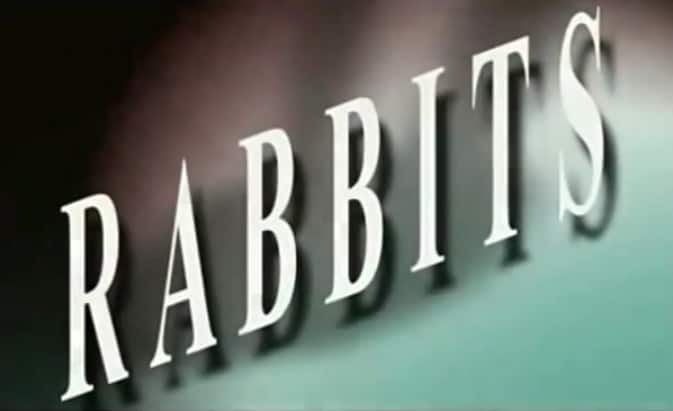 "In a nameless city deluged by a continuous rain… three rabbits live with a fearful mystery."
It may or may not at all surprise you that David Lynch's Rabbits was used in scientific experiments to make participants feel unpleasantly uncomfortable. No better way then to celebrate Easter —even if you don't celebrate it all— than with this surreal "sitcom" featuring three humanoid rabbits played by Mulholland Drive cast members Scott Coffey, Laura Elena Harring, Naomi Watts, and Rebekah Del Rio (standing in for Laura Harring in Episode 3). Initially released in 2002 on davidlynch.com when it was still a subscription website, the short videos are now only available in reedited form (and without episode 3) on the Lime Green Set's Mystery DVD (Amazon). But if you're still saving to purchase that rather expensive 10-disc collection, you can watch a low-res version of the horror-comedy on YouTube today.
As always, feel free to share your thoughts on Rabbits in the comments.
Rabbits
https://www.youtube.com/watch?v=GxKPBLjHAEA
Rabbits with a live improvised soundtrack
The original score was of course composed by Angelo Badalamenti, but here's an alternative, improvised soundtrack developed and performed at (but not endorsed by) The Banff Centre for the Arts November 2013. With Greg Samek on percussion, Alfonso Noriega on viola and Tilman Robinson taking care of processing/trombone. Recorded, mixed and mastered by Zach Miley.
https://www.youtube.com/watch?v=tr_JXe_KVI8
Rabbits – Episode 1
Rabbits – Episode 2
Rabbits – Episode 3
Rabbits – Episode 4
Rabbits – Episode 5
Rabbits – Episode 6
Rabbits – Episode 7
Rabbits – Episode 8
Bonus: David Lynch's Easter (video)