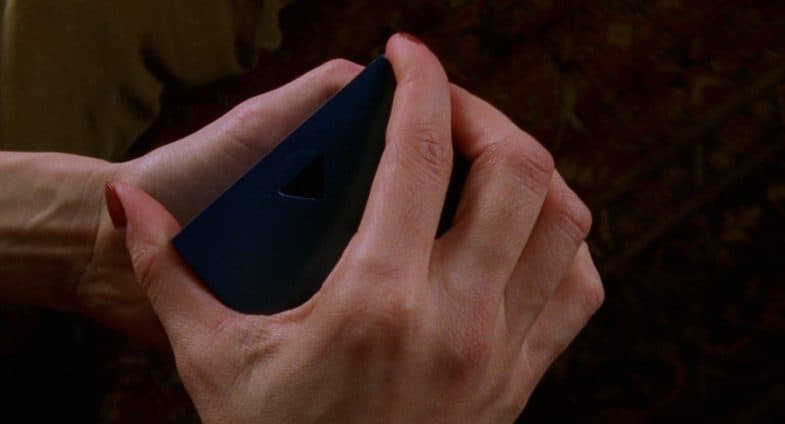 Pandora's box? A bundle of repressed memories? An escape hatch?
There are dozens of theories about Mulholland Drive's mysterious blue box suddenly appearing in Betty's purse. Don't count on David Lynch to ever explain it, but thanks to Jared Lyon we can all have a peek inside!
To celebrate the Criterion release of the movie, Jared has shared a free DIY papercraft version of the blue box. A glance through the cube's peephole reveals the gorgeous Club Silencio with Llorando-singer Rebekah Del Rio, The Magician (without a band, of course) and the Blue-Haired Lady in one of the theater loges. Brilliant!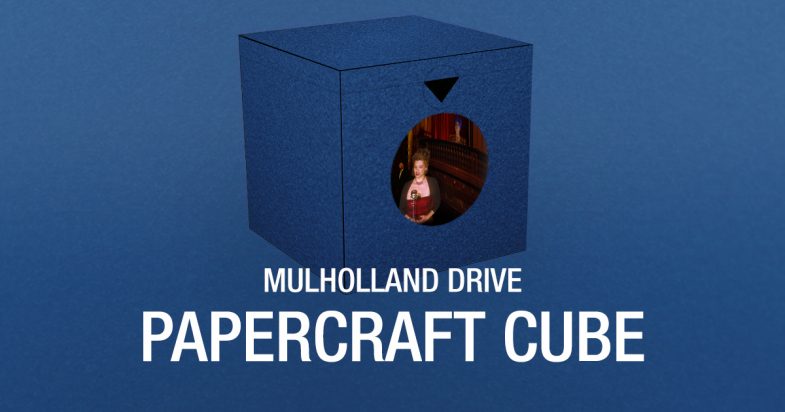 Sometime in 2014, I stumbled upon a paper cube for the game Cut the Rope. After seeing that, I came up with this idea of making a version of the blue cube from the film Mulholland Drive with the Silencio Club/theater scene on the inside. I played around with the design from time to time, but never finalized the design. Creating an inside panoramic view of the club was definitely the hardest part! When I heard that Mulholland Drive was being released on Blu-ray through The Criterion Collection, I decided to finish it up. So here it is. Hope you enjoy!
How to make your own Blue Box/Club Silencio diorama
Print outside and inside images on a single sheet of thick paper, adjusting printer settings for proper placement and color/brightness accuracy. The inside graphic is larger than the outside graphic to allow for some paper  misalignment.
Using a hobby knife, carefully cut out the blue box shape and the circular viewport, as well as slit the white tab insert locations.
Fold all tabs and box sides at right angles, making sure you're folding in the direction that keeps the blue on the outside.
Insert all lettered tabs into matching insert locations. Use tape and glue to make the cube more sturdy, if desired.
Please share a picture of your creation on Twitter or Instagram using #bluebox, or upload it in the Facebook comments.
Blue Box (Outside)
Right-click and save the image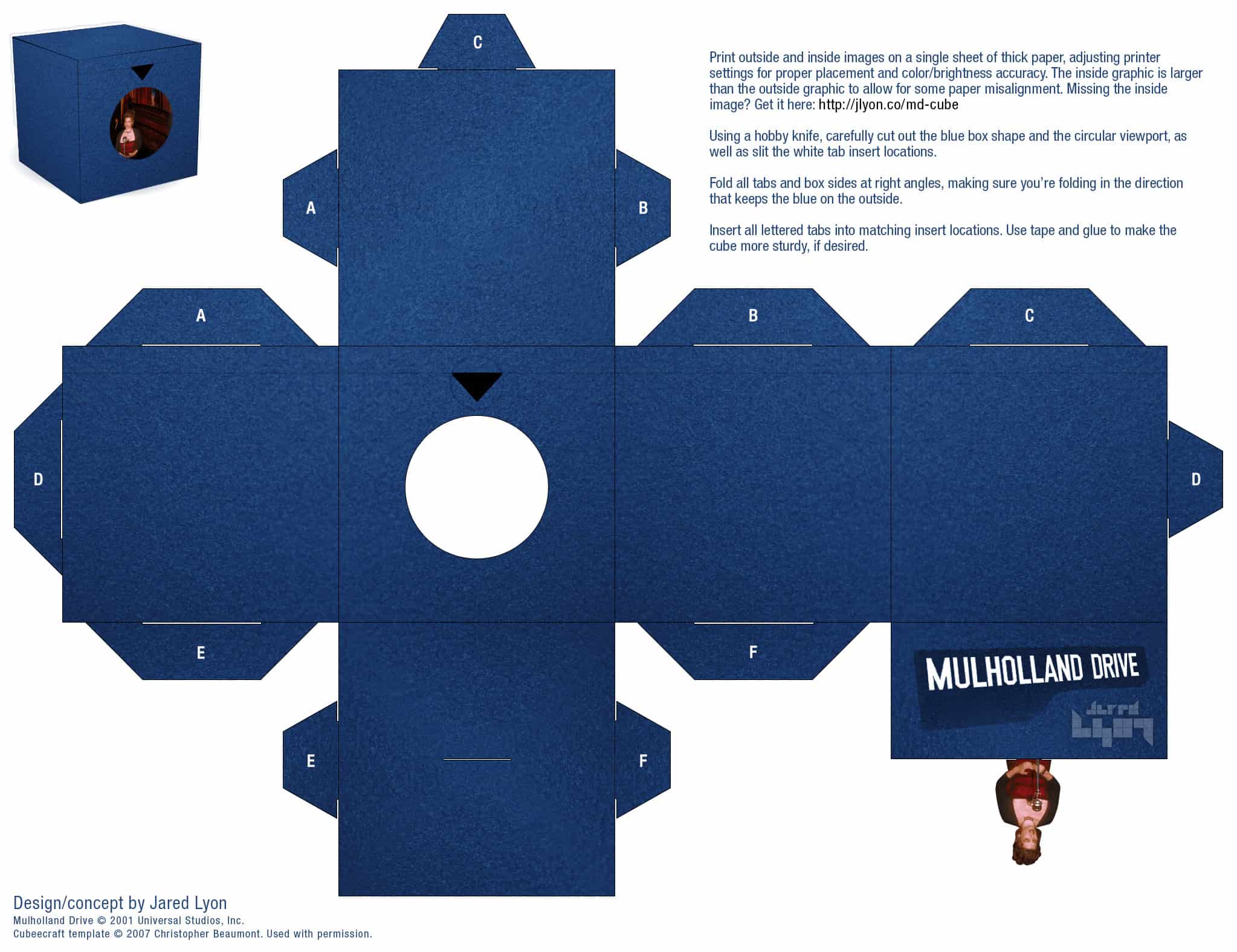 Blue Box (Inside)
Right-click and save the image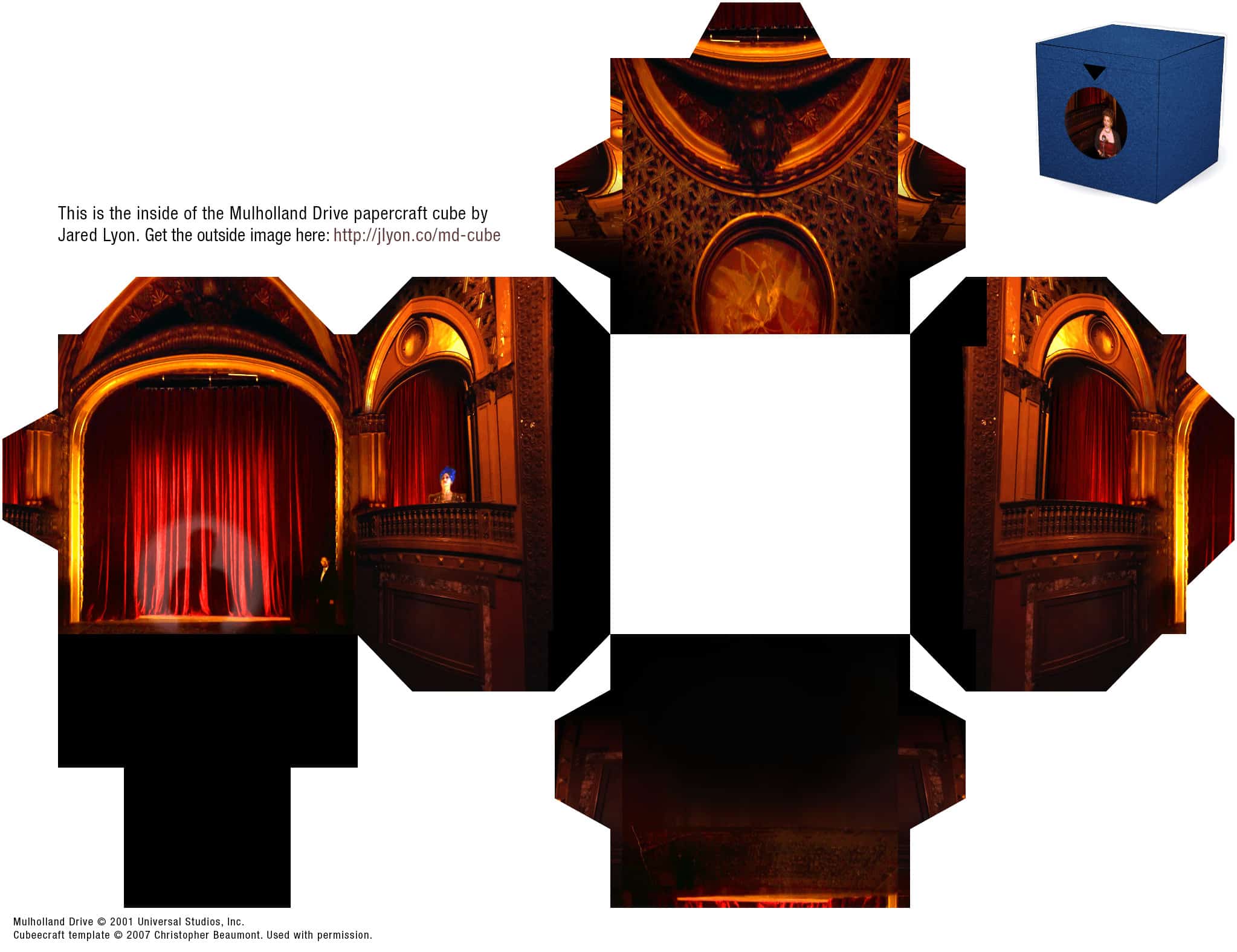 Bonus: Mulholland Drive – The blue box appears
Mulholland Drive is now out on Criterion: Blu-ray (1 disc) or DVD (2 discs) via Amazon