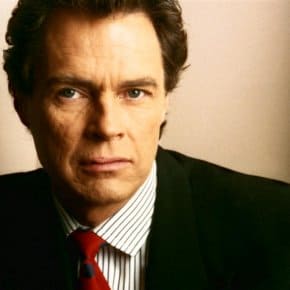 Ben Horne's civil war obsession was accompanied by a leitmotif that felt as much out of place in Twin Peaks as this particular sub-plot did, and it's now added to the David Lynch Music Company's Twin Peaks Archive as a 5-track bundle for 99 cents.
Ben's Battle
Ben's Battle (Solo Percussion)
Ben's Battle (Solo Flute)
Ben's Battle (Solo Trumpet)
Ben's Lament
[wpaudio url="http://davidlynch.com/music/Twin-Peaks-Archive/Bens-Battle.ogg" dl="0″ text="Ben's Battle"]
Ben's Battle
Included within this bundle are the track and elements that form Ben's Battle; the 'fife and drum' soundtrack to Benjamin Horne's season two psychotic breakdown. Four tracks comprise: the full track itself, as well as solo elements/stems of marching drum, flute and trumpet. Additionally included is the campfire synth-harmonica track Ben's Lament.
Bobby Briggs (to Audrey Horne): Baby, I got some good news and I got some bad news. The bad news is, your old man just bought a condo in Flip City. The good news is that he's about to win the Civil War.