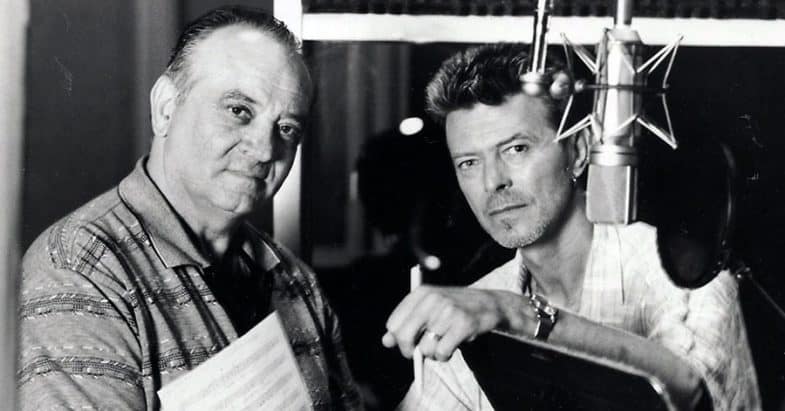 In honor of the passing of David Bowie on January 10th 2016, here is Angelo Badalamenti's story about how their collaboration on "A Foggy Day (In London Town)" came about (as heard on East Village Radio in March 2014):
I received a phone call from the record company that was doing these AIDS benefit albums called Red Hot + Rhapsody. This year's concept, they said, would be George Gershwin songs but it has to be a collaboration between two people. "We would love for you to be one of those people and then have a singer come in." And I said, "OK, but I like to pick my own Gershwin song." So I picked "A Foggy Day In London Town" because I knew I could take that song with its verse and darken it up, and make it very slow, and make it really Angelo Badalamenti.
I did a demo of the track and I did the vocal. Now here's a funny thing. They said, "Wow, we love this track. Now imagine if we get a great singer!" And I said, with a very straight face, "Well, I think I want to be the singer." And they said: "Oh, Angelo, you sound very nice… but we were thinking of, you know, an artist to collaborate with." I'm hysterical underneath but I said firmly, "Well, I did collaborate. I collaborated with Gershwin!" I said it with a straight face, and they were stuttering and stammering while I left the office and left it at that.
[A little while later] I'm in the Edison Recording Studio on 46th Street, where I was recording my album [Booth And The Bad Angel] that I co-wrote with Tim Booth of the group James. And I'm recording the orchestra there with Tim and the phone rings. The engineer says, "Angelo, there's a phone call for you."
"Who is it?"
"It's David Bowie."
David said, "Angelo, I just heard this track. It is fantastic. This is for me. I gotta do this song. Please let me do the vocal on this song."
I said, "Well, David, I know your style. I'll tell you, you're probably the only guy that makes sense. I can see you doing kind of a dark sound. You got it!"
The next day, 7 'o clock in the morning, I'm home and the phone rings. And I hear this static… "Angelo, Angelo!"
"Yes, who is this?"
"This is Bono."
"I'm in a car. I'm in Ireland. I heard this track. I am so busy, I'm on tour, I'm working on an album with my band, and I've got ten thousand things to do. The last thing I wanted to hear is a track like this. But would you let me be the singer on this track?"
I said, "Bono, man, it would be great… but last night I committed with Bowie."
And Bono said: "Well… he sings good too."
UPDATE: BBC Radio called Angelo Badalamenti to tell a recap of this story on the air. Here's the sound bite.
I loved collaborating with David Bowie, an unassuming genius. RIP https://t.co/RiibNglx59 #davidbowie #afoggyday

— Angelo Badalamenti (@DamnGoodPie) January 11, 2016
Suite for a Foggy Day (in London Town) by Angelo Badalamenti & David Bowie
"So brooding and weird that it escapes the trap of reverence and taste," Bowie expert and Rebel Rebel author (Amazon) Chris O'Leary describes the song:
[Angelo Badalamenti] had the gall to incorporate two of his own compositions, "Overcast" and "The Rainbow," into George Gershwin's music, opening the piece (officially titled "Suite for a Foggy Day") with a minute-long suite with a rising four-note motif, massing his strings on one note for Bowie's entrance. […]

In the Bowie/Badalamenti version, the moody "Irish" verse is lighter in feel, with an oboe line suggesting that the sun is breaking through early. When it's time to transition to the chorus, night and fog descend: ominous low strings and winds (bass clarinet and bassoon), a drooping line on fretless bass. Bowie sings the chorus as if he's walking into a headwind. He valiantly keeps the Gershwin vocal melody aloft while getting little support from the instruments—if anything, they seem to be retarding his progress, undermining him. Finally, there's a feeling of movement: Bowie sees her, the fog lifts and for a moment the song breaks open. But in Bowie's voice, the final line "through foggy London town, the sun was shining" has a weary sadness in it: it's a moment of long-departed happiness, remembered now as a brief break in the battle. He's still, and always will be, a stranger in the city. One of his finest covers.
Check out the credits on the song and you'll recognize a lot of musicians who also worked on the Twin Peaks soundtrack. Also, Angelo's son, Andre, and older brother, Steve Badalamenti were part of the orchestra.
Alto Saxophone – Al Regni
Arranged By, Orchestrated By, Conductor – Angelo Badalamenti
Bass – Todd Coolman
Bassoon – John Campo
Clarinet, Bass Clarinet – Andre Badalamenti
Contractor [Music] – Vinnie Bell
Drums – Grady Tate
Keyboards – Angelo Badalamenti
Oboe – Sherry Sylar
Orchestra – The String Orchestra At SoHo
Recorded By [Assisted], Mixed By [Assisted] – Jim Murray (6), Yvonne Yedbelian
Recorded By, Mixed By – Art Polhemus, Artie Freeman
Trumpet – Steve Badalamenti
Vocals – David Bowie
Now compare to the original song as performed by Fred Astaire in A Damsel In Distress (1937).