Usually there's just one, but this week I have to point you to three new Twin Peaks podcasts! People just love to talk Twin Peaks, nothing strange about that. The first one covers episode 7 of season 1, the second podcast is having a fresh start with the pilot, and the third one focuses on the music.
1) Twin Peaks Podcast #7 "Realization Time"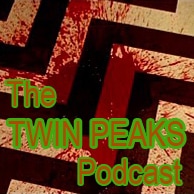 Matt, Mel, Brad, Caitlin and their guest Angie discuss episode 7 of the series and marvel over Angie's uncanny ability to sound like Waldo the mynah bird. Who wants "Uncle Crunchies" for breakfast?
[wpaudio url="http://traffic.libsyn.com/twinpeakspodcast/Episode_07_-_Realization_Time.mp3″ text="Twin Peaks Podcast #7″]
2) Firewall & Iceberg Podcast, episode 77
This week's Firewall & Iceberg Podcast is a first of a sort: the first podcast recorded with Dan and me in the same room that didn't involve Comic-Con or TCA. I'm in LA for a couple of days on business, so Dan and I sat down to begin our summer rewind of "Twin Peaks," review ABC Family's "Switched at Birth," randomly segue into a discussion of January Jones' performance in "X-Men: First Class," and more.
[wpaudio url="http://s3.amazonaws.com/images.hitfix.com/podcasts/208/Firewall_Iceberg_Podcast77.mp3″ text="Firewall & Iceberg Podcast, episode 77″] (Skip to 34:25 for the Twin Peaks bit)
3) 5 Against 4: The Music Of Twin Peaks
Marking the 20th anniversary of the end of the television show Twin Peaks (the final episode was broadcast on 10 June 1991), the third 5:4 podcast is a celebration of the remarkable music from this unique show. Despite some discussion of the story, those who haven't yet seen the show need not fear; there are no plot spoilers, & at no point do I mention who killed Laura Palmer. In the podcast I examine the various aspects of the music (mostly composed by Angelo Badalamenti) and how it's used to bring alive David Lynch's incredibly vivid and surreal drama.