Since its opening in November 2018, close to 50,000 people have experienced David Lynch's monumental Someone is in My House exhibition at the Bonnefantenmuseum. If you're not one of them, then put your life on hold right now and head to the southeast of the Netherlands before the curtain drops on April 28, 2019. Covering everything from matchbook sketches over lamps to short films, the exhibition's vastness is overwhelming and its setup meticulous. In the last few days of its run, Welcome to Twin Peaks talks to museum director Stijn Huijts who worked closely with David Lynch to make the magic happen.
TIP: For those who can't make it, the exhibition's companion book co-authored by Stijn Huijts and Kristine McKenna is almost as gratifying, and it can be ordered from Amazon.
Welcome to Twin Peaks (WTTP): Do you remember your first encounter with the work of David Lynch?
Stijn Huijts: I am a fan of his films and TV series for many years, but my first encounter with his fine art works was his exhibition at the Max Ernst museum in Brühl, Germany (2009-2010, ed.). At the time, I was still working in a different museum. Ever since I felt the desire to organize a show in the Netherlands.
WTTP: This exhibition features over 500 pieces! What was your starting point, and did you always envision it becoming this extensive?
Stijn Huijts: At first, I was not aware that his oeuvre was so big. When I found out, I decided to go for a show that would be as comprehensive as possible. In the conversations with David, the show gradually grew into the shape it has now.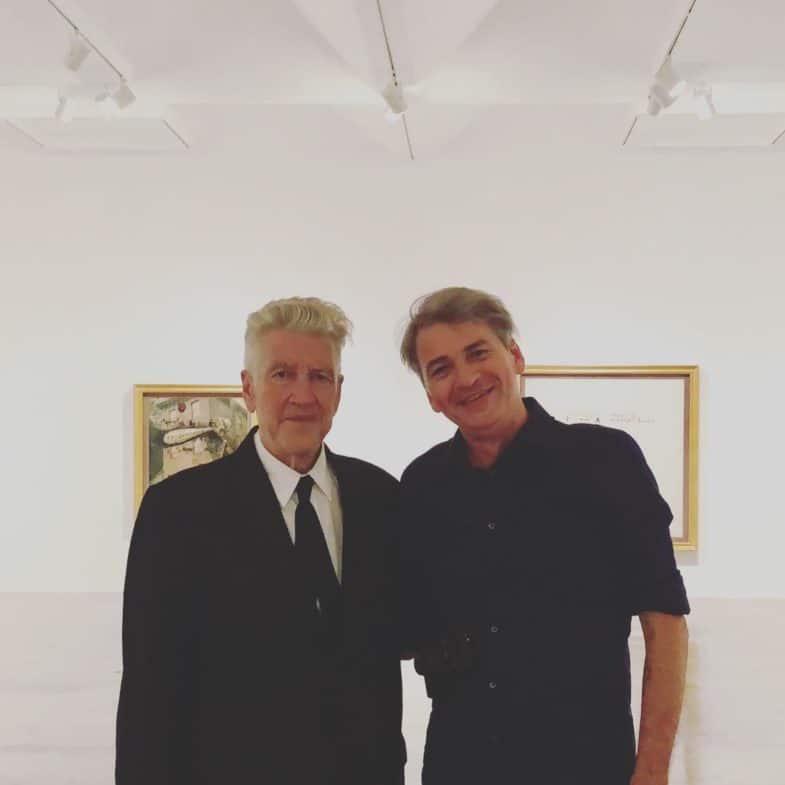 WTTP: You managed to include some recent pieces, like the Thought Gang short which premiered at the Festival of Disruption in Los Angeles in October 2018.
Stijn Huijts: The most recent piece is the "Ant Head" video. David was working on it when I visited him at the time of his opening at Kayne Griffin Corcoran in September. I am very happy to be able to show that most recent video, also because I witnessed it coming to be.
Ant Head (David Lynch, 2018)
Ant Heat by David Lynch for the Festival of Disruption 2018, featuring 'Frank 2000' and 'Woodcutters From Fiery Ships' from the lost album by Thought Gang; a collaboration between David Lynch & Angelo Badalamenti.
WTTP: What was David's involvement with the overall look and setup?
Stijn Huijts: It was all done by me, but I tuned every idea with him and got his feedback through our conversations.
David Lynch calls in via Skype on the opening night of the exhibition
WTTP: Can you talk a bit about how you got to include Six Men Getting Sick (Six Times)?
Stijn Huijts: It was my dream to include that key work in the exhibition and it is a great privilege that the PAFA (Pennsylvania Academy of the Fine Arts, red.) collection let us borrow it. I wanted to show it because it is the first example of David combining his artwork with moving image and the very first time it is shown outside the USA!
Six Men Getting Sick (Six Times) (David Lynch, 1967)
https://www.youtube.com/watch?v=zMZOgev1ErU
Six Men Getting Sick (Six Times) is a 1967 experimental animated short film directed by David Lynch.
WTTP: Did he give you any hint about his favorite work in this exhibition?
Stijn Huijts: No, but I know that he is really happy that we are showing Six Men getting Sick (Six Times). It is also one of my favorites because it's all there in that early piece; the Lynchian universe!
WTTP: Which other pieces appealed to you the most, and do you have a favorite room in the exhibition?
Stijn Huijts: The room with the distorted nude photographs and the film Pozar (Fire) from 2015 turned out very good too, as well as the room with all the huge mixed media paintings in the gilded frames. From the most recent works, "Ricky Finds out He Has Shit for Brains" is my favorite.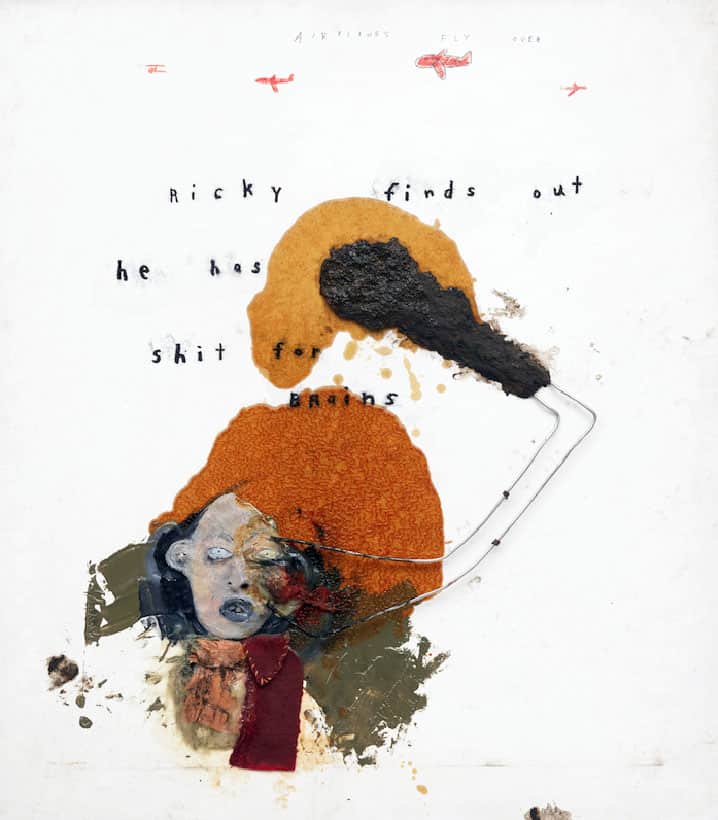 WTTP: Is there something you have learned about David Lynch that you didn't know before?
Stijn Huijts: I didn't know that he designs his own furniture and the interior of his home. And he is the kindest person!
WTTP: Looking back at the past five months, are you pleased with the exhibition?
Stijn Huijts: The exposure in the media has been amazing. From Amsterdam to Istanbul and from Berlin to New York, the show has been reviewed worldwide. So far, almost 50,000 visitors came to see it, so it's been a big hit.
WTTP: Congratulations! Meanwhile… did any 'Lynchian' things happen in the museum?
Stijn Huijts: I am not sure if every visitor that entered the Red Room [the exhibition's photo booth, ed.] actually returned from there..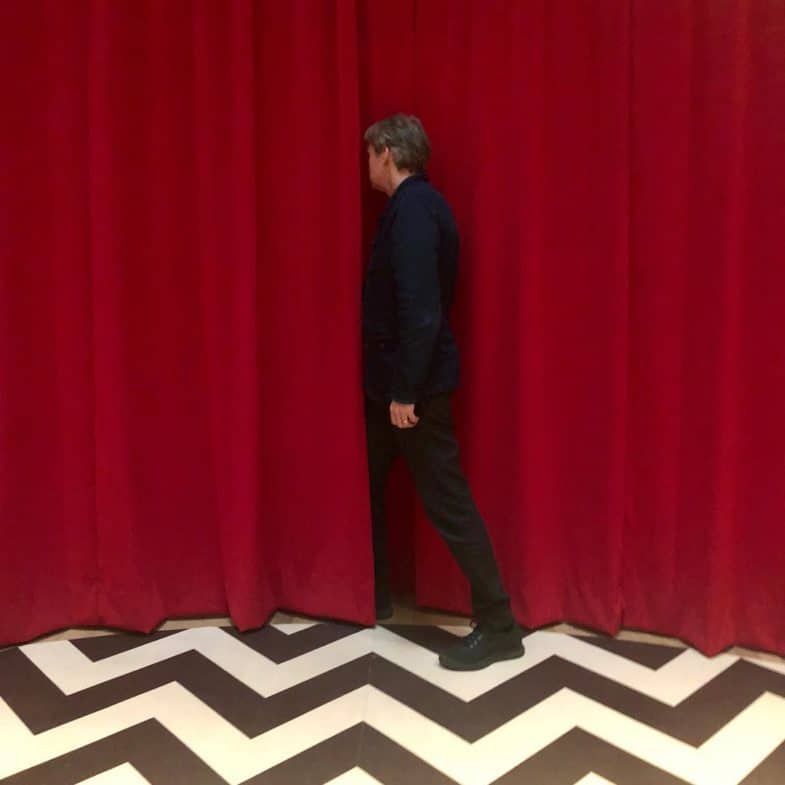 WTTP: For those paying a last minute visit before curtain call on April 28th, what would you advise them to keep in mind while walking around?
Stijn Huijts: David Lynch considers himself to be a painter in everything he does. Even when he is not painting, he approaches the world as a painter.
WTTP: Thank you very much, Stijn. Not just for your time, but for the work you and the Bonnefantenmuseum put into this experiential exhibition! Now it's your turn. Is there anything you would like to learn about those who have visited and are now reading this interview? What are your questions for them?
Stijn Huijts: Any feedback about the show is welcome, but I am curious to know which works appeal the most to the die-hard fans. Are there things missing in the show that should have been part of it?
Did you visit Someone is at My House? Let Stijn Huijts know what appealed to you the most and what you thought was missing.
The exhibition runs until April 28, 2019 at Bonnefantenmuseum Maastricht in the Netherlands. The museum is opened from Tuesday to Sunday from 11 AM to 5 PM.
"Someone is in My House" Teaser (David Lynch, 2018)