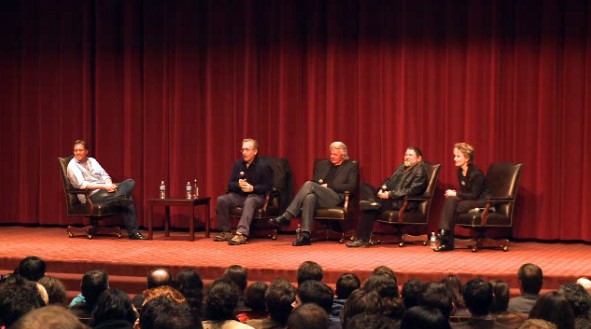 Thanks to YouTube user H Dellamorte, those in other parts of the world can now watch the complete Q&A from the kickoff Twin Peaks Series Retrospective event in Los Angeles at the USC School of Cinematic Arts on Sunday, January 27 2013.
Special guests were Mark Frost (Co-Creator, Writer, Director, Executive Producer), Duwayne Dunham (Director/Editor), Ron Garcia (Director of Photography), and Grace Zabriskie (Sarah Palmer).
UPDATE: The official high-quality video of the first Twin Peaks Retrospective Q&A is available from USC's  student operated television station, Trojan Vision. part 1, part 2, part 3 (still offline).
Enjoy and definitely leave comments!