Continuing the I Love Twin Peaks t-shirt series, this 3rd design incorporates a cherry with a carefully knotted stem.
Notice the heart shape in the stem? Yes, after years of practice, Hester Prynne… ehm, Audrey Horne is definitely getting better at this!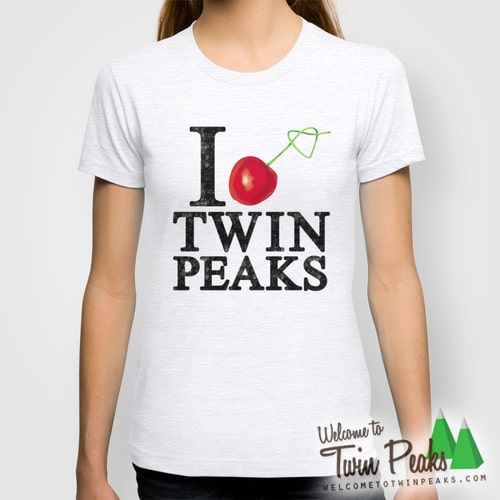 I decided to leave the stem attached because of I like the big, juicy cherry that is going to end up in Dale Cooper's pie at some point.
» Order the I Love Twin Peaks: Knotted Cherry Stem T-Shirt (multiple fits and colors available).
» Browse my other Twin Peaks t-shirts.
The famous scene in which Audrey Horne (Sherilyn Fenn) applies for a job at One-Eyed Jack's is probably one of the sexiest moments in early '90s television. Here's how it was described in the script to episode 6 ("Realization Time"):
Audrey lifts the cherry to her mouth, bites the cherry off and eats it while still holding onto the cherry stem. Next, she puts the cherry stem into her mouth. Her eyes roll and her lips squirm as she contorts her tongue into weaving the cherry stem into a knot. Finished, she pulls out the knotted stem and places it on the napkin the drink was on. Blackie's interest has been piqued. She bends forward to take a closer look, sits back and pulls out a document and pen from one of her desk drawers.