Bored with the rather dull Facebook Reactions launched a week ago (on Twin Peaks Day)?
I'VE GOT GOOD NEWS!
That thing you "Like" on Facebook, can now get Dale Cooper's thumbs up instead!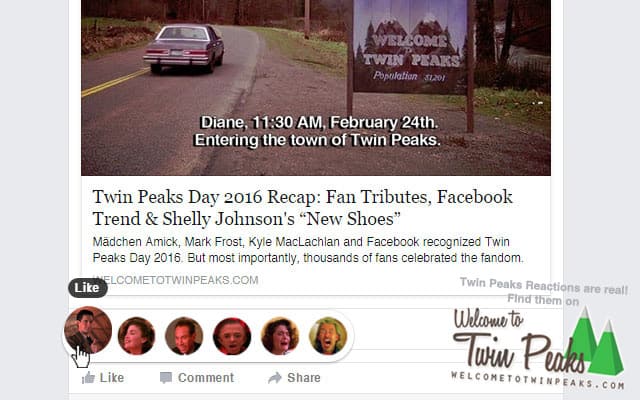 Twin Peaks Reactions by Welcome to Twin Peaks is a free browser extension that enables Twin Peaks character expressions instead of the default emoji offered by the Facebook Reactions feature. Dale Cooper is obviously the one giving the iconic thumbs up, while Audrey Horne expresses your "Love" for things. The Man From Another Place lets you go "Wow (Bob Wow)" and Albert Rosenfield is your sidekick whenever it gets funny. Donna Hayward will take care of your crying, and —if you dare to click him— Killer BOB will get "Angry" for you.
Two hidden reactions will remain secret until Facebook decides to unlock them, and surprise updates may roll out when you least expect it! Of course, your feedback is always appreciated.
Twin Peaks Reactions for Facebook in action!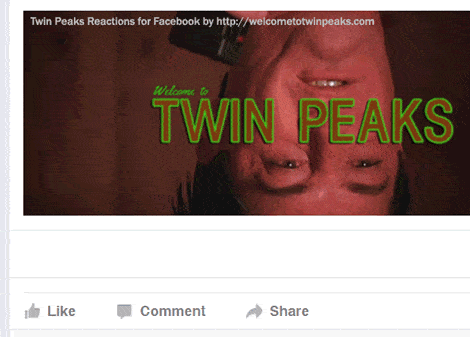 Download Twin Peaks Reactions v0.0.1 for Google Chrome here and click the "Add to Chrome" button to install the extension.
UPDATE: It was fun while it lasted. Facebook does not allow replacing its Reactions any longer.
How to use: Hover over the Like button and you'll be able to Like/Love/Haha/Wow/Sad/Angry on Facebook with some of your favorite Twin Peaks characters.
This extension is compatible with other Chromium-based browsers, including Opera and Vivaldi. Please note that these custom reactions appear only to those who have installed this extension, so please spread the word!
Troubleshooting:
Close and restart your browser if the custom Facebook reactions are not immediately visible.
If you're using an extension that interferes with the user interface (eg. FB Purity or AdBlock), please make sure you enable/unhide emoticons in its settings.
Google does not allow extensions to be used with Google Chrome for Mobile on smartphones and tablets.