Twin Peaks Day 2016 announcement video by Gloria Gemignani.
Many fans live and breathe Twin Peaks 24/7, but February 24th, the date in the pilot episode, is that one day a year when we let it all out and audaciously bombard Facebook, Twitter and Instagram —and many clueless friends along the trail— with our love for David Lynch and Mark Frost's compelling story.
Twin Peaks Day kind of started with, but certainly isn't limited to posting Cooper's 'entering the town of Twin Peaks' quote on social media at exactly 11:30 AM Pacific Northwest Time. On Twin Peaks Day, Welcome to Twin Peaks invites fans worldwide to share #TwinPeaksDay-tagged photos of stacked doughnuts, damn fine cups of coffee and fresh baked cherry pie, to dig through their Twin Peaks collections and show off rare items or photos from past trips to North Bend and Snoqualmie, and of course to watch the pilot… whether dressed as their favorite character or not.
After a little detour to celebrating Twin Peaks Day 2013 and 2014 on the pilot's original U.S. airdate of April 8th —an admittedly thoughtless idea that even confused Kyle MacLachlan— the 2015 edition was seperated from the premiere's 25th anniversary. Moved back to the symbolical February 24th, it was the first edition that really hit home. Big media outlets like Rolling Stone covered the occasion and Kyle MacLachlan's timely participation certainly officialized the holiday.
This year, even Facebook recognized the event when it became a trending topic.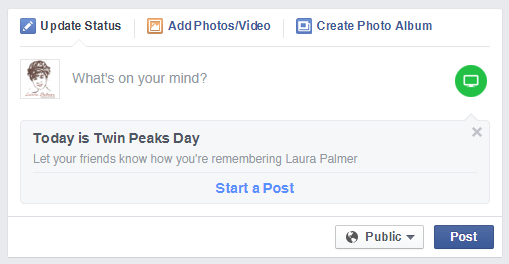 But more importantly, Mark Frost and Mädchen Amick joined in. For the special occasion, Shelly Johnson showed off her "new shoes" under her iconic Double R Diner waitress uniform.
#HappyTwinPeaksDay from #Shelly ?? pic.twitter.com/spWIDN9kiB

— Mädchen Amick (@madchenamick) February 25, 2016
Oh, and Kyle drank two celebratory cups of coffee this time.
or two 😉 ?? ?? https://t.co/HD1zpxT6Yh

— Kyle MacLachlan (@Kyle_MacLachlan) February 24, 2016
Happy #TwinPeaksDay? to @DAVID_LYNCH @mfrost11 @Kyle_MacLachlan @DamnGoodPie @sherilynfenn1 @madchenamick & friends! pic.twitter.com/TZfKh3Bilz

— Twin Peaks (@ThatsOurWaldo) February 24, 2016
And the fans?
You were brilliant as usual. Here's just a tiny selection out of thousands of #TwinPeaksDay posts.
Happy #TwinPeaksDay pic.twitter.com/XUdKx7mPVf

— Pachu M. Torres (@pachumtorres) February 25, 2016
Happy #TwinPeaksDay 🙂 Here's a Dale I painted. Now I wanna go find some pie. pic.twitter.com/LvU9Cw5Cfn

— ?? Megan Porch ?? (@magpiegram) February 25, 2016
?? 'Tonight is the night that I die' #LauraPalmer #TwinPeaksDay #fruitdoodle #fruitart #kiwi #twinpeaks pic.twitter.com/Pfy4LSEs3W

— Stephan Brusche (@iSteef) February 25, 2016
Happy #TwinPeaksDay pic.twitter.com/SGc6jd1rYx

— Blumpi (@Blumpi) February 25, 2016
https://www.instagram.com/p/BCKNXN9lryv/
Happy #TwinPeaksDay – anybody order some cream corn? pic.twitter.com/fVJwJY4P7g

— Kyle T Webster (@kyletwebster) February 24, 2016
Read and listen to all of our Twin Peaks coverage in one place. #TwinPeaksDay https://t.co/YzFaQNTbrJ

— ??Red Room Podcast (@redroompodcast) February 24, 2016
All Star #TwinPeaksDay Show!!!@redroompodcast @LostInTheMovies
@linsoflondon
@brad_d_
& John Thorne#TwinPeakshttps://t.co/1meMxabFRB

— Twin Peaks Unwrapped (@TwinPeaksUnwrap) February 25, 2016
https://www.instagram.com/p/BCLSKNoPj9y/
https://www.instagram.com/p/BCMbAE0xCaD/
https://www.instagram.com/p/BCMmJ_PFcSe/
Thank you all for participating! See you next year, on February 24th 2017!