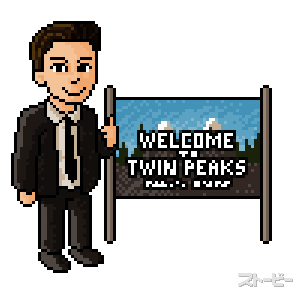 I've covered Twin Peaks pixel art before, and I know there's tons more out there, but never have I seen a pixel fan art project so elaborate as Super Twin Peaks.
Using a total of one million pixels, Lukas Stobie of Studio Stobie created a Ghostwood forest/Black Lodge scene featuring no less than 76 major and minor Twin Peaks characters… including a few doppelgangers! Lukas gave Welcome to Twin Peaks the honor to reveal this pixel art image for the very first time, so go ahead and give it a close look*.
UPDATE: This design is now available as an art print, t-shirt and hoodie!
Can you identify all the characters? Feel free to discuss in the comments below.
[magny image="https://welcometotwinpeaks.com/wp-content/uploads/super-twin-peaks.png" title="Super Twin Peaks" description="Super Twin Peaks" align="center" click="1″ scroll_zoom="1″ small_image="" canvas_mode="1″ maxwidth="600px" zoom="10″ dia="250px" skin="new-im-frame-simple,new-title-off,new-description-off,new-slider-below,new-im-magnifier-light" ]
*The image was slightly resized to fit the site, but you can use the magnifying glass to zoom in.