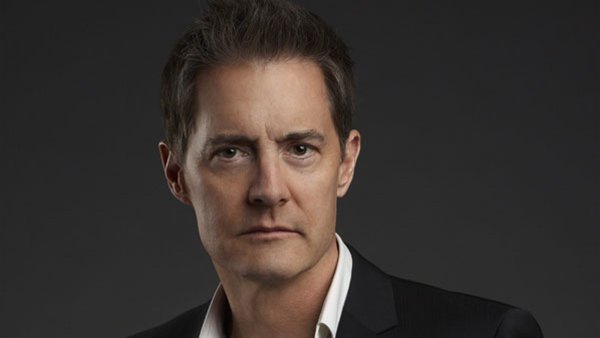 No, it's no joke. Kyle MacLachlan has been invited by the Los Angeles Times' Glenn Whipp for a live video chat on Wednesday, May 20 at 11 AM (PDT).
If you read this on time, you'll be able to watch it all happen on this page! Until the event goes live, press play to see a countdown. Or you can just check here when it's happening in your time zone.
And with the recent official Twin Peaks Blu-ray announcement, Kyle is ready to "get Peaksie!" What would you ask Dale Cooper? Post your questions in the comments below and tweet them using #asklatimes.
UPDATE: Fortunately for those who missed it, the Google Hangout is now archived and playable below.
Of course, the most interesting bit got of the interview got glitched due to Killer BOB David Lynch a bad connection, but at the 14:30 mark, it seems like the actor knows more about a possible Twin Peaks continuation in another form:
Somehow [ways that they could do a 3rd season of Twin Peaks] morphed into other things. So, I'm not gonna say anymore…
Is he insinuating something? Like a Twin Peaks novel by Mark Frost? Or a yet to be reveal surprise on the Twin Peaks Blu-ray? What's your take on it?
When in L.A., Kyle MacLachlan doesn't live too far from David Lynch and often stops by for coffee! #AskLATimes http://t.co/1cVKiHpM4p

— Twin Peaks (@ThatsOurWaldo) May 21, 2014
Kyle MacLachlan likes the @TwinPeaksFest and attending is "not outside the possibilities." http://t.co/1cVKiHpM4p (LIVE) #AskLATimes

— Twin Peaks (@ThatsOurWaldo) May 21, 2014
Kyle MacLachlan hasn't seen the new Twin Peaks footage yet: http://t.co/GUdEyf86XL #LIVE #TheEntireMystery #askLATimes

— Twin Peaks (@ThatsOurWaldo) May 21, 2014
"I can't imagine [a third season of Twin Peaks]. It's been a long time," says @Kyle_MacLachlan... but he's not telling something. #LIVE

— Twin Peaks (@ThatsOurWaldo) May 21, 2014
Another event you don't want to miss…