Who's a better personification of the ubiquitous "Keep Calm and Carry On" motto than the master of Zen: Special Agent Dale Cooper? After a disturbing dream in which the murderer of Laura Palmer is revealed to him, Coop wakes up calm as a Hindu cow, briefly calls the sheriff without telling him who did it, continues to snap his finger to an imaginary jazz tune and then goes back to sleep… hoping to have another bizarre dream. Ok, so WWII slogan only needs a tiny adjustment: Keep Calm and Dream On. Completing the design, I replaced the King's crown with Dale Cooper's iconic midnight but otherwise impeccable haircut.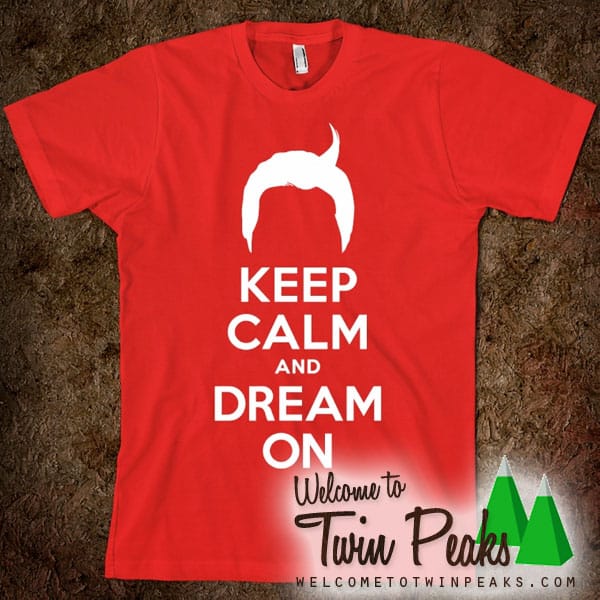 From Wikipedia:
Keep Calm and Carry On was a poster produced by the British government in 1939 during the beginning of the Second World War, intended to raise the morale of the British public in the event of invasion. Seeing only limited distribution, it was little known. The poster was rediscovered in 2000 and has been re-issued by a number of private sector companies, and used as the decorative theme for a range of other products.
» Buy the Keep Calm And Dream On t-shirt.
» Buy the Keep Calm And Dream On (white print) t-shirt.
» Browse all the Twin Peaks t-shirts.