Harry, I'm going to let you in on a little secret.

Every day, once a day, give yourself __________.
An essential upgrade for your Twin Peaks themed parties and marathons has arrived: a Twin Peaks expansion pack for Cards Against Humanity (Amazon)!
In case you're unfamiliar with the best-selling "party game for horrible people," every round is basically a fill-in-the-blank challenge (black card) where answers (white cards) will be as "despicable and awkward as you and your friends." So if you're going to play this uproarious game with fellow fans or, why not, haters of David Lynch and Mark Frost's television show, you might as well throw the Peaks Against Society expansion deck compiled by Brian Linss into the mix.
Cards Against Humanity "Twin Peaks" Expansion Pack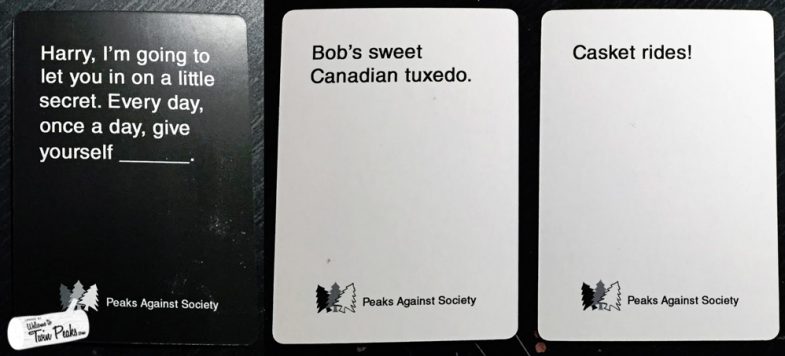 Do you love Twin Peaks? Do you love Cards Against Humanity? Then this unofficial CAH Twin Peaks expansion deck is for you. These hilarious cards can be mixed in with your normal CAH cards to add a bit of Twin Peaks to your game night. Included are 36 original cards. Each deck is shrink wrapped inside and out to make sure it arrives in great condition. Also 1 of the first 100 decks will include a card signed by Audrey Horne herself, Sherilyn Fenn. Will it be yours? Buy one and find out.
That's right. One of the first 100 decks has the "Audrey Horne's Cherry" card autographed by Sherilyn Fenn. And let's agree playing the autographed card will win every round.
UPDATE: The previously sold out Peaks Against Society unofficial expansion for Cards Against Humanity is back. There are only 200 decks available and purchasers will have the chance at two great prizes. Two orders will be drawn at random and will each include one autographed card. One card features the autograph of Dana "Bobby Briggs" Ashbrook, and the other features the autograph of James "James Hurley" Marshall. These decks are available exclusively from the CultClassicPosters Etsy page.