As a clear sign of the show's ongoing revival, there have been quite a few Twin Peaks themed photo shoots lately. Vice revisited the TV series not once but twice in the past year, and more recently an Icelandic magazine dressed up some of the country's best electronic musicians as characters from the 90s television drama. Last week I happened upon yet another terrific collection of Twin Peaks inspired portraits, executed by a photographer from Edinburgh, Scotland called Solen Collet.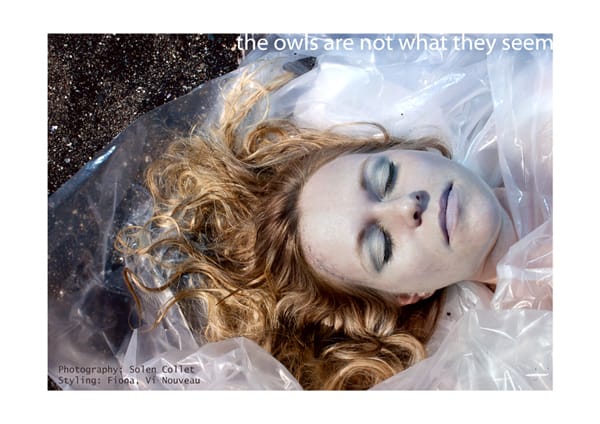 Dubbed The Owls Are Not What They Seem, the series began as the final assessment for Solen's first year of HND Professional Photography at Stevenson College in Edinburgh… but it just kept going! "Portraiture and fashion photography are my passion and working on this series of images has been a fantastic opportunity to work with creative people, including local stylists Vi Nouveau," she told me in an email. A massive fan of the show since she was a school kid, Solen was more than happy to introduce the world of Twin Peaks to some of the unaware models, who portray popular characters such as Audrey Horne, Dale Cooper, Laura Palmer and Killer Bob.
Even though the photographer hints that more photos will be added, the current series of 13 portraits is being displayed until the end of August at Sofi's Bar in Edinburgh. Go and have a look if you're in the area! The rest of the world can peek at the photos below. To accompany the exhibition, Solen also produced some Twin Peaks inspired postcards.