Canadian photographer Blake Morrow shares his thoughts with Welcome to Twin Peaks on three family-themed images from his previously featured Return to Twin Peaks photo project.
In the selection below, which includes two exclusive and unreleased images, you will recognize the Double R Diner (Twede's Cafe in North Bend, WA), the Palmer house (Everett, WA) and The Great Northern hotel (Kiana Lodge, Poulsbo, WA). As noted before, the images in this series are a combination of shots at actual filming locations with studio shoots of the models.
The Return to Twin Peaks photo project will be traveling internationally, appearing at the 2017 Twin Peaks Festival in Washington State next week and the Twin Peaks UK Festival in London in October.
Father and Son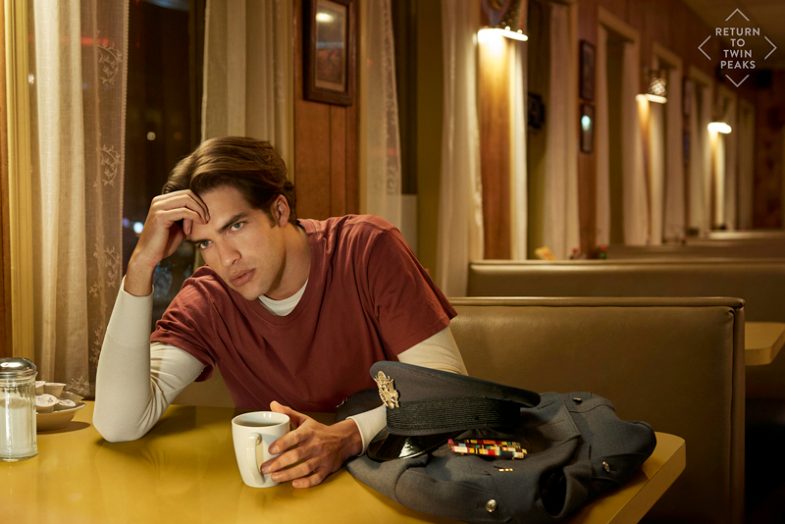 Blake Morrow:
"When I conceptualized this photograph, I was thinking about Major Briggs sharing his vision for his son Bobby (and their relationship) back in Season 2.
I figured that Major Briggs may not be alive given that the actor Don S. Davis had passed away years ago, and that his character didn't sound like he was safe as hinted in Mark Frost's "The Secret History of Twin Peaks". I imagined Bobby revisiting the Double R Diner and having a coffee in his father's honor, contemplating his own future.
I had hoped that Bobby might want to follow in his father's footsteps should anything have ever happened to him. When creating this image, I had no idea what Bobby Briggs would be up to 25 years later, so catching his reveal in season 3 was a pretty cool thrill."
Sister and Brother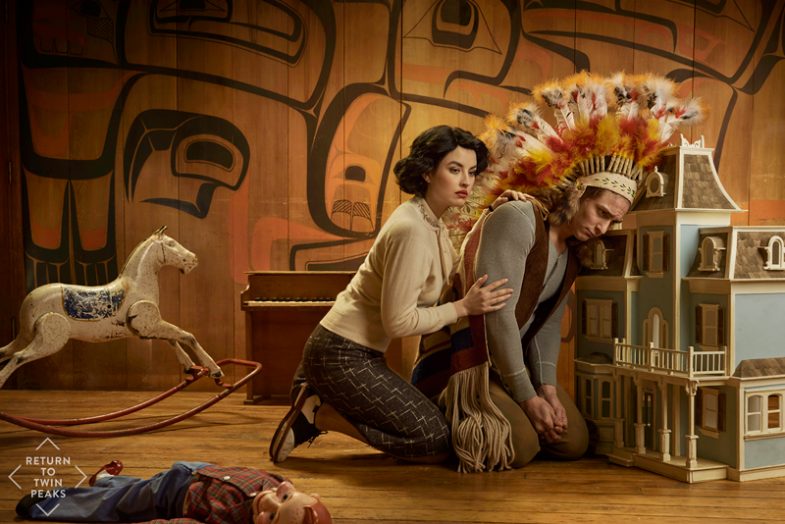 Blake Morrow:
"People look back on Audrey Horne as the end-all-be-all sexpot of Twin Peaks, and while she was definitely a provocative girl who was coming into her own sexuality as a young adult, I also found her to be deeper and kinder than her tough exterior; wholeheartedly aware of the power of love, and hungry to experience it.
Sure, she was sexy, and sometimes a spoiled brat (and we loved her for it), but I felt she was also capable of great compassion and empathy. I think her compassionate side would have cared for her brother Johnny behind the scenes when no one else would. This scene felt true to her character to me, and really represented a healthy bond of siblings in the midst of an otherwise dysfunctional family."
Home
Blake Morrow:
"Unhappy, but unable to truly change her situation, Laura suffered greatly, like a great saint, and yet lived a secret life like anything but. I think that Laura packed a lifetime of experiences and choices in her young life; from the outside, her family looked perfect. A husband and wife who loved each other wholeheartedly, and a child born of that love that they were constantly proud of.
To me, the strength of her character in keeping up that facade translates perfectly into the exterior of their home; sweet and idealistic at first, but then slightly sinister and suspicious upon closer examination."
Bonus: Watch Blake Morrow at work in this video for Vice Canada