Mad Men and Twin Peaks definitely have a few things in common; the sixties decor and fashion style, the beautiful women, Ray Wise (as Ed Baxter, father of Ken Cosgrove's fiancee in episode S4E11, Chinese Wall), the peculiar Miss Blankenship character (a strange mix of The Log Lady, Nadine and Gordon Cole)… and two shared directors:
Tim Hunter directed Twin Peaks episodes S1E05, S2E09 & S2E21, and Mad Men S1E04, S1E07, S1E10, S1E11, S2E01 & S2E04.
Lesli Linka Glatter directed Twin Peaks S1E06, S2E03, S2E06 & S2E16, and Mad Men episodes S1E05, S2E03, S2E08, S302, S306 & S4E05.
No surprise that David Lynch likes Mad Men! But what I didn't know yet was that both shows used exactly the same filming location for one of their scenes. Brad D discovered that Betty Draper's lunch with Henry Francis in season three's 7th episode ("Seven Twenty Three") was filmed in the bakery where Lucy and Andy stock up on donuts right before the rock throwing excursion. The filming location is Monrovia Bakery, 506 S Myrtle Ave, Monrovia, CA 91016. Here are some stills for you to compare: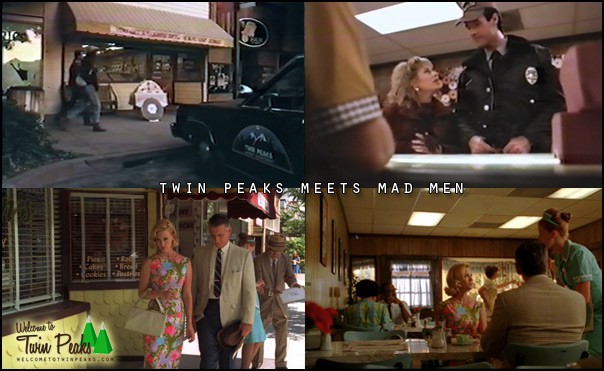 Notice the Double R waitress!
If you don't remember the donuts scene, it's because it didn't make the final cut. You can watch the outtake here:
Big up again to Brad for sharing this! Go and check out his blog, he's one of the best Twin Peaks location hunters out there! And to conclude, here's a video of Don Draper calling Special Agent Dale Cooper. Too bad the lip-syncing is way off by the end of the clip.
If you noticed any other similarities between the shows, please share them in the comments!