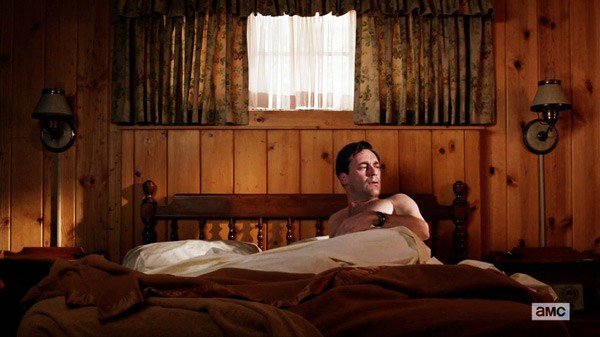 It's not uncommon for people to get a Twin Peaks vibe when watching Mad Men. The shows share a number of actors and directors, Betty Draper had lunch at the Twin Peaks donut shop and David Lynch himself is a Maddict, who in real life addresses the cast with their characters' names. The oddball 8th episode of season 6 was even so confusing, viewers assumed Lynch directed it.
It's not that hallucinating "The Crash" episode of Mad Men, but one after that ("The Better Half"), that has now been "mashed up" with Twin Peaks in this short video edit by Charles Pieper, in which Don Draper drives into Twin Peaks, past Big Ed's Gas Station and encounters the smart, sassy and alluring Audrey Horne at The Great Northern hotel. I think the mashup really works, especially towards the ending, and I wish it lasted longer ("That's what every Twin Peaks fan said!").
Don Draper In Twin Peaks
This is not the first Twin Peaks mashup made by Charles. Check out his Peaks And Recreation intro and David Lynch's Friday The 13 Part V which was included in the If David Lynch directed post.
BONUS: Don Draper did meet a Twin Peaks babe in the Mystery Date episode of Mad Men's 5th season, in which Mädchen Amick (Shelly Johnson) played an old flame of his called Andrea Rhodes.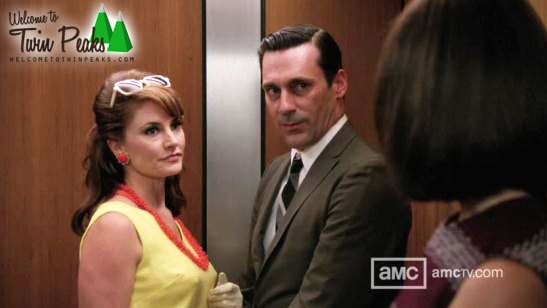 Or did he now?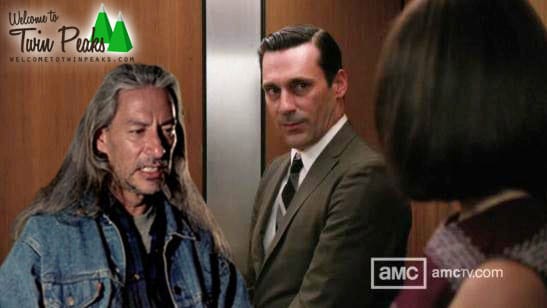 Killer BOB image by Finch Lynch (@finchlynch).