It was a mighty cliché, but the gang over at the Twin Peaks Sheriff Department sure loved its doughnuts! But before sorting and stacking them by flavor, where did Lucy Moran get the dozens of sweet snacks from? Well, according to the first draft of the Traces to Nowhere (Episode 1) script by Mark Frost and David Lynch, the local doughnut shop was called Wagon-Wheel Do-Nuts. Their tagline was "Go ahead, make my donut" and they had "square deals on round donuts!" Oh, how I wish I could see the logo and banners that the prop and design department made for this scene!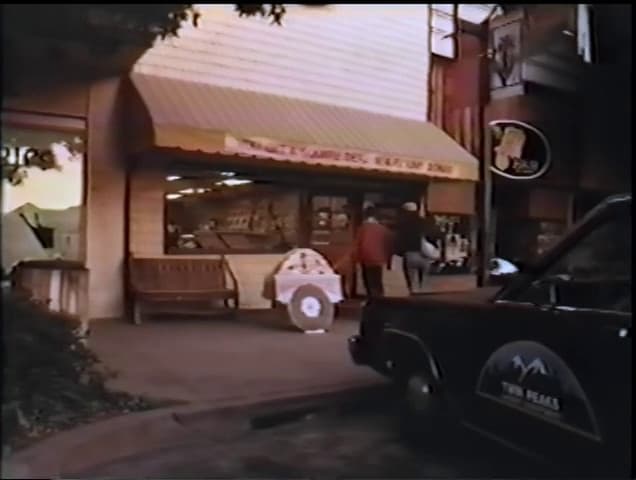 One filmed scene took place at Wagon-Wheel Do-Nuts, shot at Monrovia Bakery in Monrovia, California. Lucy orders "two boxes of chocolate creams with jimmies, a box of maple bearclaws, one raspberry swizzle twist, and two boxes of jelly donuts." The scene got cut from the episode, but fortunately, the outtake was included on the Twin Peaks Gold Box DVD (Amazon) and is available on YouTube.
Monrovia Bakery also appeared in the movie Beethoven, The Number 23 (starring Jim Carrey), Rock 'n' Roll Mom, and more recently in Mad Men.