It has happened again: two Twin Peaks alumni have been reunited in a movie.
In The Aggression Scale, which premiered at SXSW 2012 earlier this year, Dana Ashbrook plays Lloyd, one of the hit men sent out by mob boss "Mr. Bellavance", played by Ray Wise, to recollect $500,000 from the suspected thieves' families. Casting these actors as the bad guys, could its 31-year-old director, Steven C. Miller, be a Twin Peaks fan? I'd say so.
http://www.youtube.com/watch?v=_fbpuyXfYAg
After Twin Peaks and Twin Peaks: Fire Walk With Me, the two actors have shared credits in the "Dual Spires" episode of Psych and, yes, Dawson's Creek. Dana Ashbrook told Starpulse the following about working together with Ray Wise:
I've worked with Ray more than anyone else in my whole career – I've worked on four different things with Ray. He is a great guy and a great friend and I love him. Every time we see each other it's been like no time has passed. And interestingly enough when I heard he was coming up Travis Stevens (Producer) told me that I was gonna be really excited about who they cast for Bellavance and I actually guessed it right away. 'You're kidding me, Ray Wise?' And he was like, 'Oh sh#t – yeah!' Ray actually just flew in for a day on the movie and I thought that he had heard that I was in it maybe and he wanted to come do it with me. Nope – he just read the script, liked it and wanted to come in and do a part. When he got there he saw me and he was like, 'Hey Dana! Great!' He didn't even know that I was involved at all! It's because he liked the movie and liked the guys. Steven Miller really had what he wanted in his head, so there wasn't a lot of f#cking around – we got it done.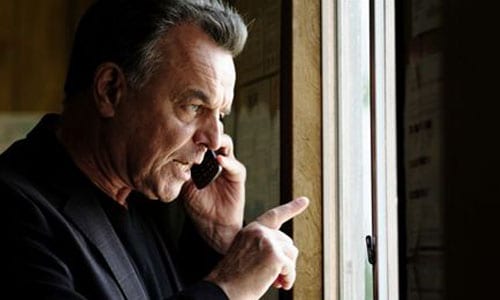 More from the Starpulse interview:
SP: In "Twin Peaks" you played Bobby Briggs – a character that's essentially James Dean filtered through David Lynch – any idea when you got cast or while you were working on it that it would become so huge?
DA:: No – I had no idea. I knew that when I read the pilot it was the coolest thing ever and it was such a cool script. But I didn't know what I was doing – I would have taken any job. I just happened to be lucky that it all fell into place like that. It could have been "Baywatch," you know what I mean? I got lucky for some reason getting into that room with David. So when I actually met with David and Mark Frost we had this great meeting and we just chatted and talked. And I was myself, I'm kind of lighthearted and funny, making jokes and at the end of the meeting he was like, 'You know Bobby doesn't smile a lot – he's not a smiley guy.' And I was like, 'No, no I won't smile!' It was really just fun and David for some reason took a liking to me and I really didn't know why because I didn't audition, I just met him. It was the easiest job I've ever gotten honestly.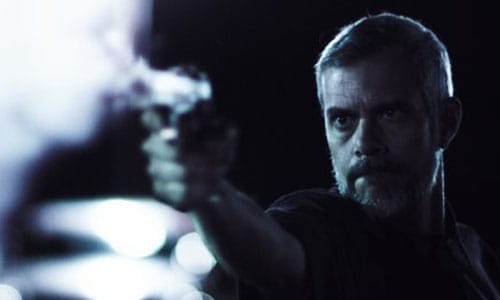 SP: Let's talk David Lynch as his directing is a bit of a mystery. Can you compare working with him first on the "Twin Peaks" series and then later in "Fire Walk With Me" and specifically his process directing on-set?
DA: When he directed the series it was always such a relief. It was great when we had other directors – we had great directors on Twin Peaks – but when David came on the set it was like the owner coming home and being able to do whatever he wants. With others there were time constraints and money constraints and what not, but when David was there it was like we'll do it when I want to do it and get it done when we get it done kind of thing. When we first did the pilot David would do this thing where he would sit on the front of the dolly, the camera would be on the dolly, and he would sit underneath the camera and watch the scene. That was where he was – the monitors weren't really the thing then. Now he's changed and he sits at the monitors with his headset, but he used to have his headset and sit on the front of the dolly and it was the coolest thing EVER. And he always had music piping in his headphones; incidental underscore music and he would let us listen to it to give us the mood. So he really perfected by the time he did the movie. By the time we did Fire Walk with Me he had that on lockdown and he had a soundman that knew exactly what he needed, so it was pretty cool.
Read the complete interview on Starpulse, and also check out our transcript of the Q&A with Dana Ashbrook in New York last February.
The movie, described by Dana Ashbrook as "Home Alone on crack," was released yesterday on Blu-ray and DVD.
Bonus clip of Dana Ashbrook as Lloyd.  Warning: there will be blood.