Not sure what to expect of this upcoming show called Valentine's Day (A David Lynch Experience), but my guess is it's not going to be all sweet and pretty with a cherry on top. What's the Lynchian opposite of that? Sour and greasy with a severed ear in a puddle of mud?
David Lynch and his friends celebrate the most romantic day of the year! It's a holiday special that's sure to be a surreal and polarizing experience. Bring a date!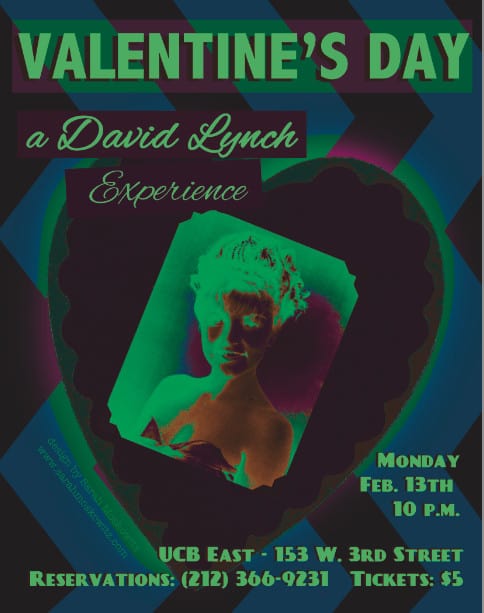 Starring Emily Axford, Andrew Beckerman, Jeremy Bent, Lynn Bixenspan, Dave Bluvband, Angela Dee, Brian Faas, Eric Gersen, Lydia Hensler, Taylor Moore, Morgan Phillips, Alexis Powell and Poupak Sepehri.
» Find out more about this show.
» Get 10% off these Twin Peaks Valentine's Day cards with code SAVEONZAZZLE.
Venue: Upright Citizens Brigade Theatre East, 153 E. 3rd Street (off Ave. A), New York City, NY
Date: Monday, Feb. 10, 2012 at 10 PM.
Tickets: $5