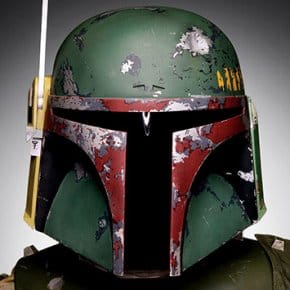 Star Wars meets Twin Peaks! Here's a video of Boba Fett playing Laura Palmer's Theme on an accordion.
Oh well, it takes more to stupefy a David Lynch fan. Or does it?
You can find out more about the man behind the Boba Fett mask, Nathan Stodola, over at Gothamist. If you want to catch him playing the Twin Peaks song live, here are his favorite spots around New York City:
By the 12th and 20th St exits to the High Line (when it is nice out).
Underground, it's the 14th St corridor: the 6th Av L stop, Union Square L, Bedford Av L, and the downtown F/M 14th St.
Jay St – MetroTech is outstanding.
Union Square is probably the best, but it's always crowded so I only play if I'm lucky enough to get a spot.