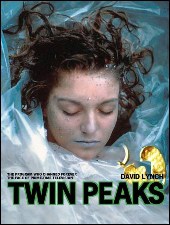 Boy, are Twin Peaks fans in New York City being spoiled lately! In addition to the ongoing David Lynch burlesque nights, there's now a Twin Peaks TV Party coming up May 9th 2011 at Brooklyn's The Bell House. For one night only, organizers Secret Formula will transform the Gowanus venue into our beloved Washington logging town. And instead of just screening some of their favorite Twin Peaks episodes, they're preparing some of these very inviting activities for us:
Party games & team trivia for prizes (want to join our team?)
A backwards-talking contest (somebody invite Michael J. Anderson!)
Miss Twin Peaks pageant (should you win this, beware the fake Log Lady)
Chess-match-of-death against local chess wizard, Alexander Seth Marcus
Fortune telling and advice from the Log Lady herself!
A treasure hunt for a plastic-wrapped Laura Palmer barbie doll.
Imagine doing all this while enjoying doughnuts, coffee and themed cocktails like The White Lodge/Black Lodge, The Red Room, and The Leland Palmer. Pure bliss!
Location: The Bell House, 149 7th Street, Brooklyn, NY 11215. Doors will open May 9th at 7pm. Show starts at 8pm. Pre-sale tickets are just $5 (+21).