Secret Formula, known for their themed TV parties including two Twin Peaks editions, are throwing a big Twin Peaks: Fire Walk With Me party tomorrow and Saturday at Nitehawk Cinema in New York City. A screening of the prequel movie will be preceded by "campy mystery and Twin Peaks influenced ridiculousness galore", like…
Twin Peaks burlesque starring Franny Fluffer's The Pink Room. See the Log Lady, Agent Cooper and more sexy characters work the stage!
Twin Peaks Costume Contest! Come dressed as your favorite character and win prizes courtesy of Nitehawk Cinema!
There will be themed cocktails (The White Lodge/Black Lodge, The Red Room, The Leland Palmer)
A new Twin Peaks episode performed live, from the "Lost Third Season"…improvised by comedic actors from the group, In These Woods!
Rare footage, outtakes, bizarre commercials, promos, hilarious David Lynch parodies and more Twin Peaks inspired madness on the big screen!
Scavenger Hunt for Laura Palmer's Body– search for clues leading to the location of Laura's plastic wrapped body hidden somewhere in the Nitehawk!
A lecture from Professor Johnny Von McNulty's lecture series titled, A Series of Lectures. The topic: Twin Peaks. Professor Von McNulty is a contributing writer to Saturday Night Live and The Onion and is also a member of Upright Citizen's Brigade's Harold Team.
Cherry Stem Tying Contest (You gotta use your mouth!)
Chess-match-of-death against local chess wizard, Alexander Seth Marcus!
Coffee and Donuts!
Owls. Lots of owls and a lot more fun and surprises!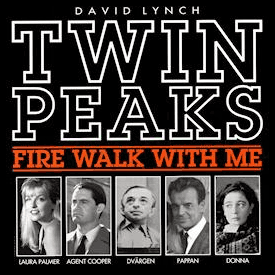 Date: Friday, May 4th and Saturday, May 5th. Party starts at 10:00pm. The movie screening starts at midnight.
Tickets: $15 in advance via this link.
Venue: Nitehawk Cinema, 136 Metropolitan Avenue, Brooklyn, NY, 11211.